Heading to an Estate Sale This Weekend? Keep an Eye Out for These Cleaning and Organizational Products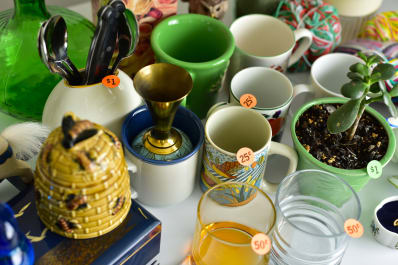 (Image credit: Basya555/Getty Images)
If your reaction to the title of this post was "eww", that's valid, I hear you, secondhand items aren't for the faint of heart. But there are those among us who were born thrifty and live the 3 R's of recycling to the fullest. We like saving money, staying out of big box stores, and know that estate sales are more than just great places to find unique vintage home decor.
Thrifty as I might be, I'd never buy cleaning products from a "thrift store." You don't know where the product came from — and you don't even know if the contents are actually what it says it is on the label. However, at an estate sale the cleaning products are usually all grouped together in the laundry room where they've been stored since the homeowner first purchased them. Being in the actual residence you're be able to see how clean the homeowners are, and you can decide for yourself whether or not you feel comfortable buying the items. Just be sure to check for expiration dates (yes, cleaning products do expire!) and pop the lids open to make sure the product is in good shape, free of lumps and clumps.
Here are a few things to keep an eye out for:
Cleansers
Cleaning products such as Borax, Barkeepers Friend, and OxiClean never expire. If the price is right, bring them home and add them to your cleaning arsenal.
Dryer Sheets
Another cleaning product that never expires! If you're not fond of the scent (or if they've lost it completely) there are many other alternative uses. Dryer sheets make excellent dusting cloths, and are fantastic to use when cleaning windows.
Carpet and Floor Sweepers
A must-have for homes with wood floors, low-pile rugs, and any sort of critter running around (two legs or four!). Purchased new, you'll spend around $50 for a decent model. Find it used at an estate sale and you're bound to get a good deal. Chances are, if it's from the 1950's or 60's it's an even better quality, longer lasting product that what you'll find on the market today.
Corn Straw Brooms
Good brooms seem to be hard to come by these days, that's why I never pass one up at an estate sale. Give it a quick clean and you're good to go. If you're not sold on the idea of bringing it inside your home, store it outside to be used on the patio or in the garage.
Metal Dustpans
If we're talking quality, metal wins over plastic any day. They're somewhat difficult to find in stores, so if you come across one in good condition at an estate sale be sure to pick it up.
Wicker Laundry Baskets
Unlike plastic laundry baskets, wicker baskets are around for the long haul. Use them for laundry, toys, moving, planters — whatever you can think of.
Wood Hangers
These always seem to be plentiful and cheap. I've picked them up many times for 25¢ each and use them to hang heavy winter coats, and store winter blankets and other linens. Wooden pants hangers are great home decor items and work beautifully as a photo frame in a pinch.
Irish Linens
Be on the lookout for souvenir-style novelty towels, usually stamped or tagged "Irish Linen." Known for being highly absorbent, these towels are fantastic for drying dishes and washing windows — added bonus: they're cute and fun to display.
Other Linens for Cleaning
There's always a linen closet to be found at estate sales — sometimes they're full of fun vintage novelty prints, other times all you'll find are plain old, worn terrycloth towels. If you happen upon a linen closet where the items are practically being given away, grab an armful of towels to cut up and use for rags. You'll never regret it.
Plastic Storage Bins
Have you ever met a storage bin you didn't need? Me neither. Head to the garage or down to the basement (usually next to the holiday decor) to find these gems priced way below retail.
Air Purifying Plants
Estate sales are fantastic places to purchase houseplants. They're usually mature, healthy, and you can feel good about giving a new home to a plant in need. Keep an eye out for these plants that help improve air quality in your home: Areca Palm, Bamboo Palm, Boston Fern, Lady Palm, Mother-in-law's Tongue (also known as a Snake plant), Peace Lily, and Rubber plant.
The list could go on and on — it's all just a matter of how open-minded you can be when it comes to being thrifty.
What items do you look for at estate sales, anything to add to our list?