"Ethnic" Decor: Is it a One-Size-Fits-All Concept?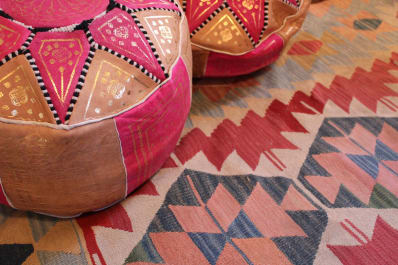 Last week, stylist Justina Blakeney raised a really interesting point on her blog, a theme that's also come up in some of the comments here at Apartment Therapy: the word "ethnic" has become a catch-all descriptor for anything that has non-Western origins.
In the words of Justina,
It's lazy and inaccurate to call something simply 'ethnic.' What's more, it doesn't mean anything. It's kind of like describing something as 'interesting.' It's not a descriptor. It also reinforces the concept of the 'other' — like, we are like this, they are like that.
Turkish, Moroccan, Mexican, Native American, Indian — all these decor styles have been lumped into a single category rather than being appreciated as having their own origins and histories. Eclecticism in style is certainly not a bad thing; appreciating the culture of another place or group of people, to my mind, is a significant part of what it means to be a good world citizen. But the point that Blakeney makes, which I think is well-founded, is that by liberally using such terms, it implies that we've stopped caring about context. We've applied a "one size fits all" label that diminishes the richness of other decorative traditions and that (perhaps inadvertently) reinforces the hegemony of Western decor through an "us" and "them" set of descriptors.
What do you think? And are there any ways that we can get around this problem? Blakeney has several possible solutions, and she reveals some of the actions that she takes when she encounters the "ethnic" descriptor on places like Pinterest. She also discusses substitute terms like "global" decor and their potential implications. For more of her perspectives on the issue and more comments on this debate, head over to her blog.
(Image: Marcia Prentice / Simone's Romantic Home Filled with Personal Treasures)