Evaluate Your Tool Kit: 12 Basic, Essential Tools to Keep on Hand for DIY Projects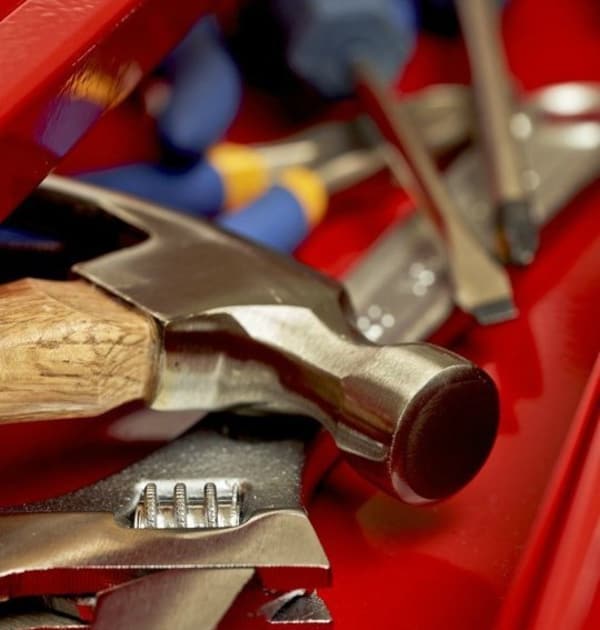 Looking for a quick weekend task? Want to make finding and finishing those DIY projects even easier this year? Take a minute or two today to locate (and reassemble, if you're anything like me and tend to leave a trail of screw drivers throughout your space) all your tools together and evaluate what you have. Do any of your tools need replacing or upgrading? What are you missing? Here's a list of our favorite types of basic, essential tools to always keep on hand (so you're prepared for any DIY project that strikes your fancy!)
POWER TOOLS

Hammer Drill: Vital for trying to hang art or anchor furniture in concrete or masonry. $70 and up. Pictured: Hitachi 5/8-in Hammer Drill.
Cordless Drill: Yes a screw driver will do the trick, but speed up your DIY project and enjoy more of your weekends. We recommend an 18 Volt or 20 Volt one. Starts at just under $100 and up. Pictured: DEWALT 20-Volt Max Li-Ion Cordless Compact Drill/Driver
Jigsaw: Do you get creative with your DIY projects? A jigsaw could prove invaluable. Avoid off-brands if you'll use one frequently. Pictured: Bosch 7-Amp Jig Saw.
Orbital Sander: Perfect for getting the finish off that vintage furniture piece quickly so you can repaint or stain to fit your style. Can find a decent one $60 and up. Pictured: DEWALT 5 in. Orbital Sander.
Dremel: With a stream of attachments a good Dremel can help you do all manner of home improvement or DIY projects. Pictured: Dremel 120-Volt Variable Speed Rotary Tool Kit.
NO ELECTRICITY NEEDED
Level: Invest in a nice 24" long one, but keep some smaller sizes around, too. Make sure you grab the ones with horizontal and vertical vials. Pictured: Stanley Box Beam Standard Level.
Measuring Tape: Same with the level, have a nice sturdy long one, but keep a small one on hand for whipping out of your pocket for smaller projects. Pictured: Stanley 33-425 Powerlock 25-Foot Measuring Tape.
Screwdriver Set: A good screwdriver set will go far. Even though we mention above to get a power drill, screwdrivers can fit into small spaces and are quiet for late-night DIYing. Consider a set with interchangeable bits for more flexibility. Pictured: Klein Tools 7 Piece Journeyman Assortment Screwdriver Set.
Step Ladder: Sturdy is important so you don't fall, but definitely invest in one that folds small if you live in a compact home short on space. You'll be able to use it for reaching all sorts of high-up DIY projects. Pictured: Rubbermaid RM-3W Folding 3-Step Steel Frame Stool.
X-Acto Knife and Cutting mat: Not every cutting job requires a saw, and you'll be surprised how many DIY projects can be helped along or completed with a good sharp hand bland. Pictured: X-Acto Self-healing cutting mat and X-ACTO Aluminum Handle Knife.
Staple Gun: The secret to finishing many home DIY projects quickly, you can can also use it for temporary fixes around the house. Pictured: DEWALT 18-Gauge Heavy Duty Staple/Nail Gun.
Hammer: If you're only going to keep one hammer around, you need one that can do a lot of different duties. Look for one that can easily drive in nails for hanging things as it can help tear down walls. Pictured: Framing Hammer, Antivibe.

Do you tackle tons of DIY projects throughout the year? Which tools have you found to be the most helpful and handy that you'd recommend to readers looking to beef up their took kit?
Apartment Therapy supports our readers with carefully chosen product recommendations to improve life at home. You support us through our independently chosen links, many of which earn us a commission.