Everything You Need to Know About Thrifting for a Dorm Room
We
independently
select these products—if you buy from one of our links, we may earn a commission. All prices were accurate at the time of publishing.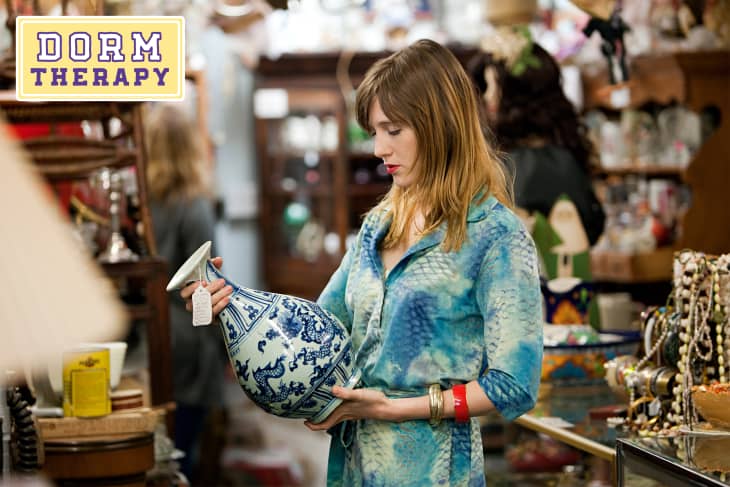 Between tuition, textbooks, and having any kind of social life, the cost of college can seem neverending. One expense you might not have given much thought to is outfitting your dorm. You'll need the essentials like storage, in addition to some fun decor—and one way to do that without breaking the bank is to buy items at thrift stores. It's a great solution if you want your dorm to look as good as possible for as little as possible. Here's how to make the most of your time, money, and thrifting experience.
Knowing what's you and what's not is a great first step to thrift shopping, as it is with any decorating project. The best way to do this is to create a plan at the outset, Brooke Christen, a Connecticut-based thrifter and blogger, says. "With a dorm, I would suggest creating a design or mood board,'" she explains. "This will help you streamline your style for the space and stop you from buying things that don't work or you don't love." Check out some mood board tips on Christen's blog.
Buy little, but buy often
Thrift stores always get new inventory, and the good things tend to go quickly. Check back weekly for new stock or old items that have been discounted. "Goodwill, Savers, and places like that put items out daily and throughout the day so there are always new items," Christen says. The subreddit r/Frugal channel also points out some thrift stores offer rewards programs and coupons for frequent shoppers, so be sure to ask when you visit.
Fridays might see a dearth of inventory, so better bets are Monday and Tuesday once the staff has had time to sort through weekend drop-offs. And one thing most thrifting experts can agree on? Halloween is probably the top season to unequivocally avoid thrifting! 
Don't overspend just because something is priced inexpensively. Ask yourself if the quality and the use you'll get out of it is worth it. A Goodwill blog suggests you should ask yourself if the item is in the "want" or "need" category. "And another quick solution is to ask yourself, 'would I buy this if it was full price?'" If the answer is no, then you probably don't need it," the blog states.
The internet can be a thrifter's ally
There are tons of online resources to make your searches easier. Thriftshopper.com lets you find the best stores in your area. Sites like Poshmark have also opened up home sections that allow you to shop for necessities and decor without leaving the comfort of your dorm futon.
Focus on quality materials
If you shop thrift stores correctly, you can get quality items you can use long-term, instead of cheaper furnishings and wares you have to re-purchase each year. The subreddit r/Frugal points out you can learn to recognize quality materials and fabrics, offering some thrifting advice on furniture. One user writes: "Stick with 100% wood (not veneer, not particle board) and 100% leather (not faux leather)."
Christen's top tip to freshen up any room—college dorms included—is to look for baskets, planters, or pots. "You can sometimes find some that are virtually brand new. In a small space, baskets can be your best friend! Baskets can also be fun to hang on the wall and add texture and warmth to a space." 
Let your imagination run wild and think of the wonders that paint or varnish can do. "A vintage, chippy metal container for $1 or $2 might look like garbage but it can be used as a cute planter or crayon holder," Christen says. But be careful and don't buy anything that is in too poor a state.
But know how much upcycling you can really tackle
Know when to stop, and how much time you really have for upcycling. "Don't waste your money on baskets that are the wrong color, are breaking or moldy, or seem too brittle," Christen says. "Don't settle for something broken or beyond repair. Often, the time and expense of repairing or painting something may not be worth it."
Don't overlook the many uses of fabric
Fabric is one of the most versatile items in a thrift store. You can get so much use out of a roll of fabric that it might amount to being the cheapest item in a thrift store. So find a design you like and run wild! If you're not great at sewing, check out Christen's top tips for no-sew cushion covers that look incredibly luxurious with minimal effort! 
This is especially true for fabric-based items you'll be bringing into your dorm. If your new items have removable covers, be sure to wash them according to directions right away. For furniture with wooden legs, give them a good wipe-down. Murphy's oil soap for wood is a good place to start. 
Now that you're an expert thrifter, add up your savings and celebrate by going to dinner instead of the cafeteria or saving up now for that Spring Break trip!
Want more dorm ideas, inspiration, and stories? Head over to Dorm Therapy HQ!