Excuse Me While I Take a Nap on This Comfy Couch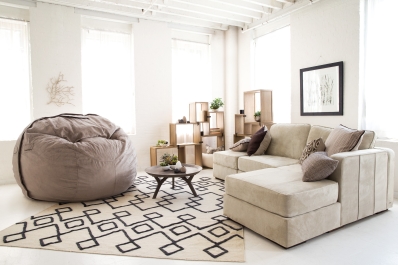 (Image credit: Lovesac)
Picture it: you're in your living room with your besties, piled on the sofa for a Friday night movie. You've got your sweets, you've got your treats, now all you need to do is settle in and watch the original "Ghostbusters" for the twenty millionth time. How exactly are you going to get comfy?
In 1995, when he was a teenager, Shawn Nelson had a novel idea: to create a huge foam-filled couch that was more comfortable and more resilient than the beanbag chairs of yesteryear. Starting from scratch, and with relatively no experience, the 18-year old created what is now Lovesac— alternative couches that are machine washable, changeable, comfortable and durable. Lovesacs are filled with shredded Durafoam, which gives the couches a comfy, pillowy embrace to rival all others: perfect for movie nights, and lazy Sundays too.
This year marks the 20th anniversary of Shawn's beloved invention. To celebrate twenty years of livable and lovable couches, Lovesac is debuting a new collection that's all about celebrating their roots. The Roots Collection includes four specially-designed, limited-edition sacs inspired by important moments in Lovesac history, each with its own unique tale.
There's one for everyone – which Sac do you love?
The Original 2.0
The Original 2.0 is revival of the very Sac that Shawn handmade himself – the one that started it all. Brought to drive-in theaters, friends' houses, and sporting events, the original black-and-tan ball instantly turned heads. Everyone wanted one. Now, 20 years later, this ultimate revamped classic has a reversible cover and comes in two sizes: Bigone and Supersac (great for a big ol' pile of friends or family, or, you know, yourself.)
The Divasac
When a national teen clothing retailer placed an enormous holiday order of 12,000 glittery purple Sacs in December 2001, this fuzzy diva was born. Today, Lovesac has upped the shaggy factor with the Divasac— made with polyester phur that is longer, fluffier, and super soft. And since it's machine washable, there's nothing high-maintenance about this diva.
The Dotcomsac
At the turn of the century, Lovesacs made their way to the offices and homes of some of the most influential Silicon Valley tech companies and startups, venture capitalists and celebs. Today's version, the Dotcomsac, is the comfortable, practical, and perfect solution for the entrepreneur at work or home. This new high–tech Sac even has pockets for your tablet and phone (because every techie can appreciate a software upgrade!)
Moviesac: The Sequel
Did you know that Lovesac movie theaters are a thing? And have been since 2008? Moviesac: The Sequel, is the new limited edition take on the original theater Sacs, now made by hand and classically covered in pleated, plush red velvet. This movie game changer is even perfectly proportioned for two, so you don't have to fight for the best seat in the house.
Ready to relax yet? Head over to Lovesac.com to explore the new collection in full!