Family Portraits that Aren't Awkward or Embarrassing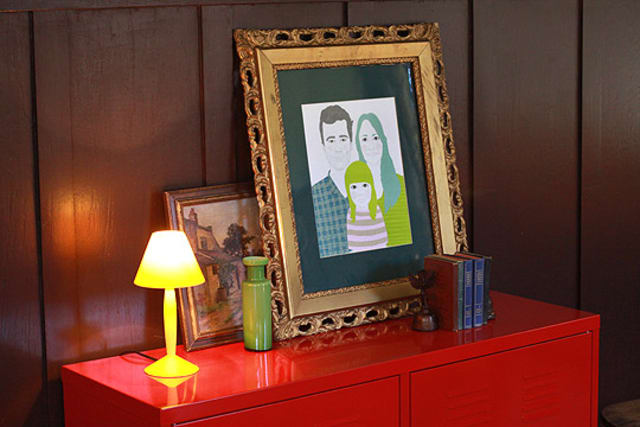 There's nothing wrong with awkward family portraits when you're looking for funny Internet distractions, but in real life it's probably best to spare your kids the humiliation. Leave the matching shirts and goofy studio props to the department store photo studios, and look instead for a portrait that you'll be proud to keep around for years to come.
Ashley G and Drew
The portrait shown above (from Brad, Lis and Meade's house tour) comes from Ashley Goldberg and Drew Bell, a creative couple who live in Portland, OR. They sell original paintings, prints through their Etsy shop and accept commissions (price on request).
K Studio
This mother/daughter business lets you pick out one of the "family series" pillows and have it embroidered with a mom, dad, baby—even the family pet. Or you could go for a piece of Family Series Wall Art, starting at $160.
allPopart
This online shop can create silhouette portraits from your personal photos. Sizes range from 10x13" to 42x52", and you can choose paper or on canvas, framed or unframed. Prices range from around $50 for a simple silhouette to $200 for more complicated images.
My Wire Empire
Looking for something out of the ordinary but still personal? This Etsy seller makes family portraits of chairs (like this print, $16). You can even commission a special image of your family re-envisioned as furniture.
Crenshaw Designs
For a more traditional take on the classic family silhouette, check out Georgia-based Etsy shop Crenshaw Designs, where you'll find custom family tree wall art in basic black and white, starting at $98.
Modern Genealogy
My Tree & Me offers customized family trees or DIY versions, where you fill in the blanks. Styles are graphic, colorful, affordable, and not at all what you expect from a family tree chart. This Slice of Life Print is $210 for a custom version.
AsherJasper
This shop creates handmade felted and wooden toys, including roly-poly woolen egg carton people that can be custom ordered to resemble your family. This Custom Woolly Felt Family in an egg carton sells for $90.
Naked Peggies
This Etsy shop offers hand-painted wooden peg dolls for wedding toppers and game pieces. If you send in a photo of your family, they'll design a custom set for you. This example set of family pegs sells for $40.
Photo: Molly Anderson / Brad, Lis and Meade's Light-Filled Bungalow