Family Style: 10 Kid Friendly Designers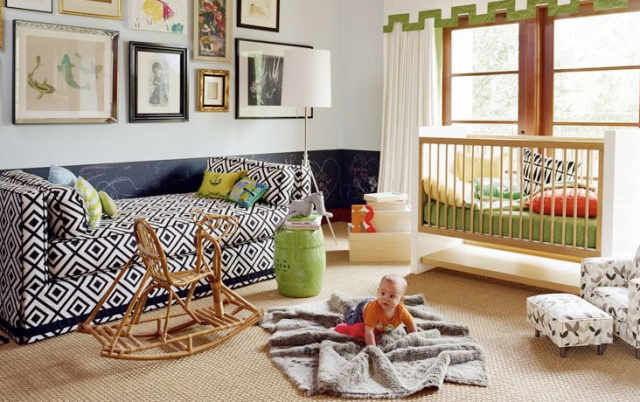 Designing a space with children in mind can be a real pleasure and, despite the stereotypes, it doesn't mean you have to decorate with pastels. These ten designers prove that family style can mean many things.
Jennifer Delonge
Very few of Jennifer Delonge's interiors are instantly recognizable as "kids rooms." They look like cool, comfortable spaces that could belong to anyone... until a pint-sized table or a fire truck on the floor gives away the fact that these are, in fact, homes with small children.
SPI Baby
Los Angeles-based designers Sarah Shetter and Alison Pavetsky just launched a new line of children's furniture that's designed to make the transition from nursery all the way up to teen room. The line is bright and playful without feeling too babyish.
Little Crown Interiors
Interior designers Naomi Coe and Gerri Panebianco have differentiated themselves by focusing on rooms for kids and new babies. With over 60 projects to their name, their style ranges from Hollywood glam to traditional nautical to retro chic.
Nicole Sassaman
Well-known for creating contemporary, yet warm designs for luxury homes and celebrity residences, she has a new design service geared toward the everyday homeowner, "Design In A Box," which allows access to her design expertise for an affordable rate.
Lichten Craig Architects
LCA's projects represent a wide range of spaces—some tiny apartments and others huge family townhouses. Built-ins and furnishings with rich textures and colors make many of their houses feel like livable, family-friendly places.
Monte Design
In addition to a keen design eye, life with four children has taught Ralph and Michelle Montemurro of Monte Design what modern parents want - "comfortable, functional and design-driven products." The couple runs a modern store and design service out of Toronto.
Kellygreen Home
Designer Kelly van Patter owns and operates this Los Angeles store, which specializes in eco-friendly home decor and sells children's furniture and accessories. Check out her online portfolio for family-friendly interior inspiration.
Sixx Design
Bob and Courtney Novogratz are celebrity designers — you might have seen their show, "Nine by Design" on Bravo. With seven children, they understand how to create comfortable, value-driven spaces with style.
Jennifer Ward of Minor Details
Jennifer's Blog, Minor Details, is a peek inside her brain and serves almost as an online sketchbook for her client work as a family and child-focused interior design consultant. Check it out for the beautiful, playful spaces she creates.
Amanda Moore of Baby Green
Designer (and mom) Amanda Moore owns and operates Baby Green, a New York-based design firm that specializes in sustainable design for children and families. She also provides organization services.
Top Photo: Nursery by Jennifer Delonge