Farmhouse Bedroom: Get the Look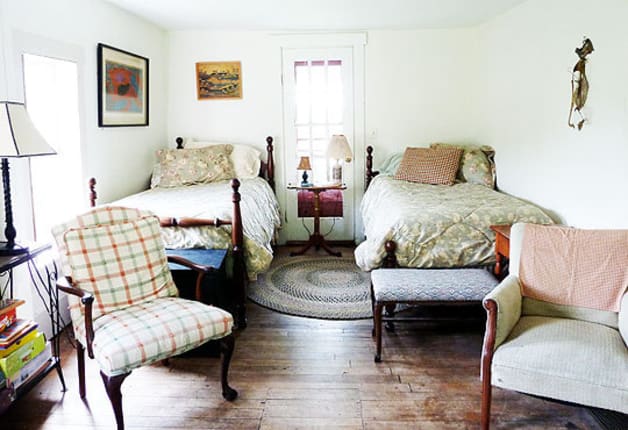 The Oates family are sheep farmers who live in a classic Vermont farmhouse, furnished with family heirlooms and hand-me-downs. It's one of those homes where every piece of furniture has a story. As nice as it must be to live there, not everyone inherits a farmhouse full of antiques, so if you like the look but you're starting from scratch, here are some good sources that can help you build your own collection.
Antique Beds, Benches, and Chairs
Ruby Lane
This website hosts a lot of antique dealers who list items for sale. Styles are traditional and prices can range from affordable to extravagant. This 4-post Antique Mahogany Bed is currently listed for $875.
eBay
For upholstered side chairs with traditional wood frames, check eBay, craigslist, flea markets, and thrift stores. A quick eBay search turned up this Plaid Mahogany Armchair, which would fit right into the room above.
Etsy
As one of the largest sites for independent sellers, Etsy has a huge selection of vintage furniture, including traditional and modern styles. This Vintage Wood Footstool is available from Etsy seller moxiethrift for $52.50.
Craigslist
Traditional wood side tables show up all the time on craigslist. Search for terms like "Victorian end table," "traditional side table," or "wood occasional table." For similar styles, you can also check Shaker furniture stores.
Bedding and Textiles
Pendleton Woolen Mills
This 150-year-old company makes wool blankets in Native American, striped, and classic patterns. They also have an 'Eco-Wise' collection of 100 percent wool products that are made in the USA and Cradle to Cradle Certified by MBDC. This Eco-wise Wool Worthington Throw is $98.
Hable Construction
Founded by sisters Katharine and Susan in 1998, Hable makes organic cotton textiles with instantly recognizable graphic prints. This Rose Checker Canvas Pillow is currently available for $125.
Brook Farm General Store
Based in Brooklyn, this shop specializes in simple, beautiful home basics. This is a Matteo Quilt, made with diamond quilting and a classic ticking stripe pattern. It sells for $225.
Etsy
Braided rugs can be found in antique stores and at flea markets. There are also craftspeople who continue the tradition of handmade American rugs, and many of them have Etsy shops. This Oval Braided Rug is available from Etsy seller ShepherdsRugs for $180.
Art & Accessories
Lehman's Non-Electric Catalogue
This catalog was founded in the 1950s to serve Amish communities who needed non-electric supplies. It's since expanded into a source for simple, green goods for everyone, and the company now posts its inventory online. This Antique Bronze Key-Wound Alarm Clock is $33.
Shaker Workshops
This store in in Arlington, Massachusetts, is an affordable source for high-quality reproductions and reissues of simple, classic Shaker designs. They sell several variations on the iconic "Tree of Life" image, like this Tree of Light print, $70.
P.O.S.H.
Based out of Chicago, this store has a nice selection of flea market finds and antiques from French Provence — perfect for the country farmhouse look. This French Cafe Coat Hook sells for $54.
Goodwill
They have an online auction site where you can bid on secondhand stuff. It works just like eBay, except that proceeds go to Goodwill programs. This Adjustable Reading Lamp with Glass Shade is open for bidding as this post goes up.
To see the full tour of this home, click here.

Photo: Celeste Sunderland