Before and After: A $0 Hack Gives These Sad Stairs a Colorful Boho-Style Upgrade
We independently select these products—if you buy from one of our links, we may earn a commission. All prices were accurate at the time of publishing.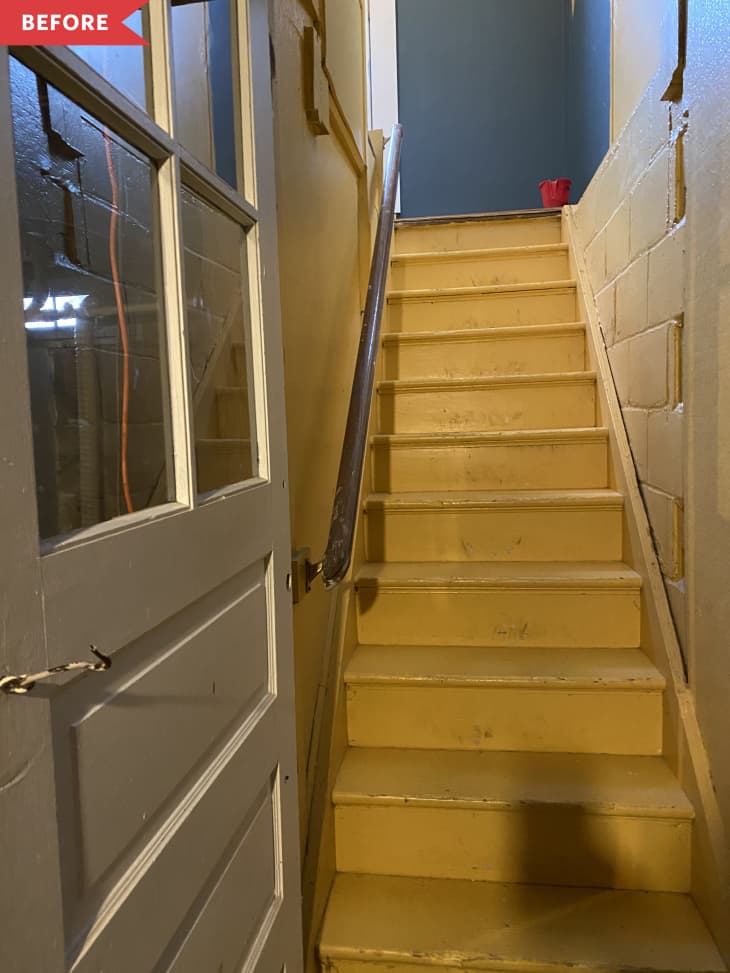 Sometimes it's the overlooked spaces that can inspire the biggest and most gratifying transformations. Take the basement stairs in Melanie Schantz's home, which started out pretty low priority. "The stairs were really worn looking. Both the stairs and walls around it were painted a terrible yellow. Every time I walked down them, I would always think of how I would redo them," Melanie says. "The thing is, your basement stairs are always on the bottom of your list when you have projects guests are more likely to see."
But social distancing at home gave Melanie some extra time to rethink the space. "Honestly, being quarantined right now made me want to take on some bigger projects—projects I wouldn't necessarily take on otherwise," she says. "I usually work with my mom redoing other people's houses, so I decided to embrace being stuck in my house and finally do some projects here that I've been putting off."
Melanie wanted to make sure taking on this project wouldn't mean needing to go out for supplies, so she worked with what she already had in her house—and she got a high-impact look with a little creativity.
Melanie started by painting the stair risers white. Then, she painted the treads gray, using porch and floor paint she already had on hand. To make sure she could still use the stairs while the treads dried, she painted alternating treads; that way, she could use the treads that didn't have wet paint on them to walk up and down the stairs.
The super colorful tiles? They're not real! Instead, Melanie downloaded free desktop wallpapers and adjusted the size to fit her risers using Photoshop. Then, she printed the images on her home printer and used Mod Podge to adhere the papers to her risers. "I had the idea for the look of the tiles before, but figuring out how to make that happen came from being quarantined," Melanie says.
Once the stairs were done, Melanie painted a faux fringed rug on the concrete floor at the bottom for an extra special touch.
She estimates it took her an hour or so every day for five days to finish this project. "You definitely have to leave some time for the paint to dry on the treads," she says. But total cost? Zero dollars.
"I love the vibe of the stairs now. When I would walk down them before, it just felt old and weird and reminded me that I had that looming list of things I wanted to do in my house," Melanie says. "Now, they feel clean and fun and I feel like I tackled such a huge project—physically huge even. It's amazing how much of an effect a physical transformation can have on your state of mind."
"There are very few projects you can literally walk on and feel the effort you put in," Melanie adds. "With every step I take on these stairs, I feel the time I put in, the creativity that came out of such a weird time, and the progress I made towards making this feel more like my home."

Inspired? Submit your own project here.