5 Feel-Good Books That Will Take Your Mind Off Things Before Bed
We independently select these products—if you buy from one of our links, we may earn a commission. All prices were accurate at the time of publishing.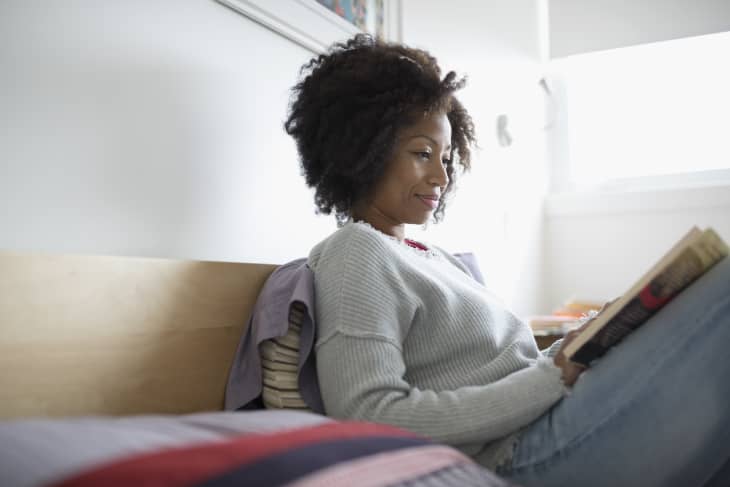 Reading fiction before bed is one of the science-approved ways to guarantee a good night's sleep. And since our real world is looking a little… scary lately, you may opt out of murder mysteries or too-real dystopia. These books are some of my favorites over the last year or so—there is some romance, some soul-searching, but the main thing that ties each story together is friendship. And beautiful books about friendship practically guarantee sweet dreams.
Follow Topics for more like this
Follow for more stories like this
Writers & Lovers by Lily King
As someone who loves to read and write, I really appreciated Lily King's latest novel, whose central character is a struggling novelist reeling from the loss of her mother. She struggles to understand the motivations of her characters along with herself, but her reverence for language and storytelling made the story incredibly special. 
The Other's Gold by Elizabeth Ames
I love beautiful books about female friendship. This is a beautiful book about female friendship. Ames builds a group of college friends whose likes, dislikes, secrets, desires, and identities are so closely connected, and anyone with a tight-knit crew of friends will appreciate watching these young women balance their shared identities and individual paths.
The Dutch House by Ann Patchett
Short-listed for the Pulitzer Prize, Patchett's latest novel about siblings ousted from their childhood home—a legendary, historical mansion in suburban Philadelphia—will help you focus on something else for a while. Read this if you love stories about how people and places form us, haunt us, leave us, but ultimately, stay with us.
Normal People by Sally Rooney
That's right, I'm recommending a Rooney. I tore through this book, but I also thought it was one of the most moving modern romances I'd ever read—where Connell and Marianne's chemistry was rich and rewarding, and their internal lives were equally engrossing. Before you watch the Hulu series, please read the original work. Please also do that before seeing any movie or television adaptation of a book.
It's Not All Downhill from Here by Terry McMillan
Loretha Curry is a protagonist whose life is upended by loss—but this story of resilience, friendship, and healing is the perfect read for those seeking guidance on how to move forward after tragedy.