Felicity & Hattie's "Labor of Frugal Love"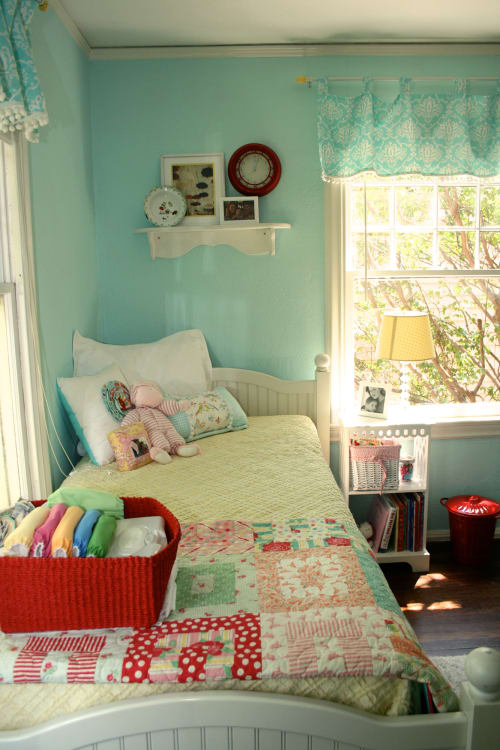 Name: Felicity (2.5) & Hattie (5 months)
Location: Dallas, Texas
This is my daughter Felicity's room, created just for her before she was born. I knew I wanted a cheerful, happy room that was feminine but not an explosion of pink. I had begun work on my first quilt before I was even pregnant with her, and when I found out I was having a girl, I knew the quilt would be the inspiration for the colors and feel of the room. Since the quilt had lots of aqua, yellow, red and pink, I used those as the main colors in the room.
I really love this room. Never before had I been able to start from scratch on a room to get it just how I wanted it to look. That being said, I was working under the guideline of "Spend as little as possible" so it was a labor of frugal love. It was also a joint effort among so many dear family members. SO much of the furniture and decor accents were hand-me-downs. The twin bed, yellow bedspread, and wicker bookshelf were unused hand-me-downs from my parents. The rocker was a friend's cast-off that I had recovered. The dresser was in my nursery as a baby, and given a fresh coat of paint and some new knobs from World Market. The curtains were made by my mom and grandma (using fabric from Dena Designs) to match the bumpers I had custom made off Etsy. The wall sconce was an antique find that I have had since college. And the large ABC print was also a flea market find given as a gift. All of the white frames behind the crib are $1 garage sale finds that I spray painted white and filled with photos and inexpensive art.
The only things I bought new were the crib, side tables (from Ikea and Christmas Tree Shops), yellow polka-dotted lamp (Christmas Tree Shops) rug (Ikea), red trash can and clock (both from World Market).

Somehow, all these hand-me-downs worked together perfectly to create a cozy, slightly vintage-feeling, happy room that perfectly matches the name and demeanor of my little girl.

(As a note, Felicity is now almost 2.5, so the room has changed a little in the last 2 years. We moved the crib out so her sister, Hattie, (5 months), could use it. But in the next 6 months or so, we plan to move Hattie into the room, so it should end up looking just like this again.)
Thanks, Erin!
(Images: reader Erin)