7 Inspiring Biographies and Memoirs You Should Read for International Women's Day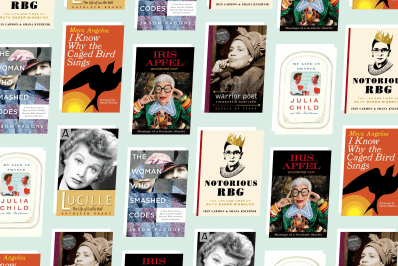 (Image credit: Apartment Therapy)
While we should be celebrating female power and bravery and intelligence every day of the year, it seems appropriate that today, International Women's Day, we compile a list of our most inspirational female icons for a little refresher course on the power of women. If you're looking for a new female superhero, or just want to learn more about one of your favorites, this list is for you.
If you are a World War II buff, or saw 2014's Oscar-nominated The Imitation Game, you're familiar with the Enigma machines used by Nazi Germany to send encoded messages to spies. What you may not know is the story of Elizebeth Smith Friedman, a Shakespeare expert-turned-code breaker who used her deep understanding of language to crack the Enigma several times. For decades, Friedman used her intelligence to fight for her country, and her display of bravery is certainly one for the books.
Supreme Court Justice Ruth Bader Ginsburg is not only an impressive legal figure, she is an icon for the women's movement. While this book may look like a playful homage to her Internet memedom, it's actually a comprehensive look at the important contributions she's made to our country from the bench, as well as a chronology of her admirable legal career (she was the first female tenured law professor at Columbia). The interviews, photographs, and unique display of thorough reporting will make this a book you revisit on a regular basis.
Just in time for Women's History Month, enjoy a new memoir from this bold, confident, and perfectly-accessorized fashion muse. At nearly 100 years old, Apfel is a social media sensation with an impressive resume: She has consulted on decor at the White House, she co-founded a textile company with her husband, and she's worked with an impressive array of famous clients (including Joan Rivers). Her eclectic and unforgettable style offers the inspiration any woman needs to live as authentically and as colorfully as possible.
Writers and feminists draw much of their inspiration from Lorde's work, whose identity as a "black, lesbian, feminist, mother, poet warrior" made her not only a fantastic, important voice in literature, but a fascinating and powerful subject for a biography. De Veaux, who won the 2005 Lambda Literary Award for this volume, explores Lorde's upbringing in Harlem by immigrant parents, her impressive literary career, and her complicated personal life through Lorde's own journals as well as interviews with friends and families. Those inspired by Lorde's works will have a deeper respect for the writer after understanding where her words come from.
Child has always been an inspiration for me because she found her raison d'etre late in life — she didn't start cooking seriously until her late 30s, when she attended the famed Cordon Bleu cooking school in Paris. My Life In France chronicles Child's experiences with French cooking, which would become the basis for much of her success later on. This book is an always-helpful reminder that you may stumble upon your passion at any time in life and when you do, you should jump on it.
Anyone who grew up watching I Love Lucy knows one side of the optimistic, quick-witted, charismatic redhead who continues to be a television icon. In this sweeping biography, Brady, a former historian and journalist, not only chronicles Ball's Hollywood life, but also explores her personal friendships, her childhood and upbringing and her journey to become one of the most influential faces on TV.
It's impossible to end this list without the moving memoir from poet Maya Angelou. With a forward by Oprah Winfrey (as if the book weren't inspiring enough already), this powerful story of Angelou's life should be high on your TBR list whether you're intimately familiar with her poetry or not. At times heartbreaking, at others uplifting, it is an absolute must-read.
Apartment Therapy supports our readers with carefully chosen product recommendations to improve life at home. You support us through our independently chosen links, many of which earn us a commission.