The First Thing You Should Do When You Move Into a New Place
We
independently
select these products—if you buy from one of our links, we may earn a commission. All prices were accurate at the time of publishing.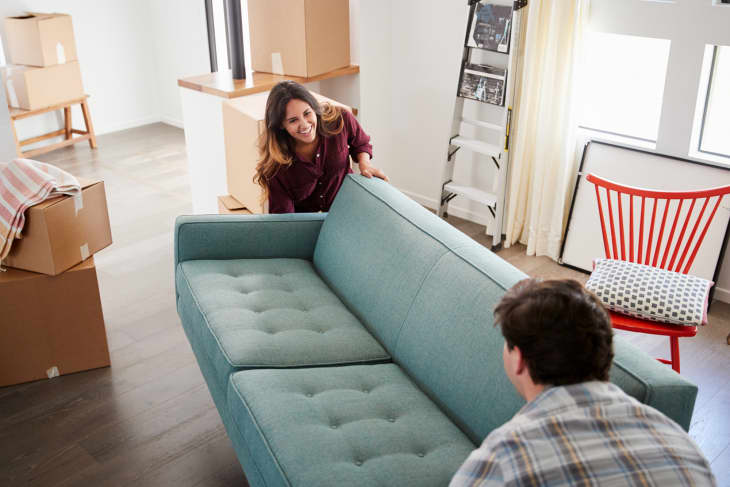 But, unfortunately, there's more to finishing up a big move than just unpacking boxes. You want to make sure you — and your most precious possessions — are safe, too, and that often means double-checking that your new home's details are suitable. 
But what should this to-do list include? I asked real estate professionals to share their five most important tips below, including the first thing you should do as soon as you move in. While the answer is not, "Have a dance party," you can always turn up the music once this job is done.
First, you should change your locks. 
It's impossible to know how many copies of the keys were made before you moved in — or where they might be floating around — so for security purposes, it's necessary to rekey your locks or replace them entirely with new ones.
"Locks, like any technology, are getting better," says Drew Coleman, an Oregon-based realtor and founder of Opt Real Estate.
But Washington, D.C.-based Harrison Beacher, managing partner and realtor at Coalition Properties Group, says it's also a great time to upgrade to a smart lock instead. "You should not be using a physical key as your primary method of entry into your home," he says. "Consider smart locks, or at least keypad locks as the way to get in and out of your home." 
In addition to changing the locks, buyers should also have the home professionally cleaned, including the air ducts, says Andrew Bloom, founder and chief executive at BVO Group and team leader at the Cunningham Group in Santa Monica, California. "This will reassure you that any previous dust has been removed, and you can enjoy a healthy and fresh new home," he added. 
The EPA and the National Air Duct Cleaners Association (NADCA) say the average cost of air duct cleaning for an apartment or home is between $450 and $1,000, depending on the square footage. 
Beacher also recommends updating your wall outlets to include USB and USB-C ports directly in the outlet so you won't need all those bulky bases for charging anymore. While you're at it, he says, "look at every bulb you can change in the home and change them to LED." 
Review your inspector's punch list. 
Bloom says buyers should check their home inspection report for a list of items that should be addressed in the first year you own the home, but keep in mind that most will not include inspecting leaks in irrigation and sprinkler lines. If you have an outdoor space that needs to be watered, "it's advisable to have a thorough inspection by a landscaper to mitigate any leaks," he says. 
And don't forget to purchase and maintain a home warranty on your new home as well. "This will prevent unexpected costly repairs," says Bloom. "Home warranties are renewable every year and should be maintained for your entire homeownership."
Consider adding a security system.
Coleman recommends doing some security basics as soon as you can, such as purchasing and installing a security or monitoring system, or paying for a professional to install one instead. "There's no such thing as a 'safe' neighborhood," he says. "Crime can occur anywhere."