Flea Market Guide: Coast to Coast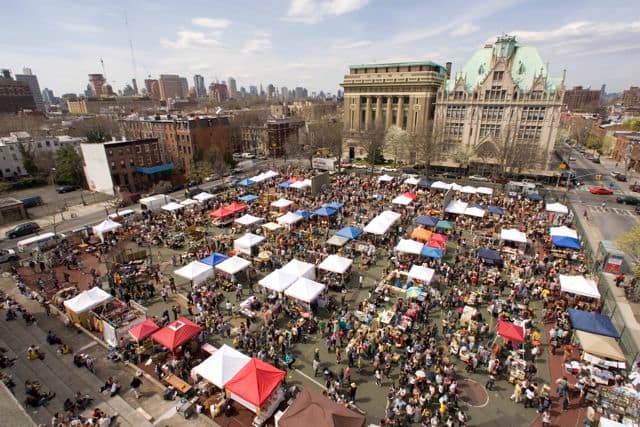 As the summer winds down and people decide where to take a weekend trip before the season ends, we're suggesting a few flea markets across the country. We've combed our archives for some of the best places to visit, but we're hoping that readers will add their favorites to the guide. If you've found a great flea market, send us a tip and we'll take a look.
California - Bay Area
Alameda Point Antiques and Collectibles Faire
This flea market takes place in Alameda (near Oakland) on the first Sunday of each month. A serious shopper's market with over 800 outdoor dealers and a $15 admission fee, it's a favorite of designers and flea market addicts.
Alemany Flea Market
Located at 100 Alemany Boulevard, this flea market is much smaller than Alameda, but it's convenient if you're staying in SF and don't want to cross the Bay. It's open on Sundays from 8 am to 3 pm, and it's a relaxed environment with local vendors.
San Pablo Flea Market
Located in Emeryville, California (North Oakland) this flea market is open daily. It's a smaller, family-owned market where you can find fixer-upper furniture at reasonable prices.
Downtown Santa Cruz Antique Street Faire
Every second Sunday (weather permitting), Downtown Santa Cruz hosts an antique fair from 9am to 4pm, where vendors offer an eclectic blend of antiques and vintage furniture, books, and ceramics.
California - Los Angeles and SoCal
Pasadena City College Flea Market
Held on the first Sunday of every month from 8am to 3pm, this flea market is a big one, with over 500 vendors. Admission is free, and you'll find lots of old-school antiques and collectibles. Proceeds from the market benefit the College.
Long Beach Antiques and Collectibles
Held every 3rd Sunday of the month at Long Beach Vets Stadium, this is a large market with over 800 dealers. Hours are 5:30am to 3pm and there's an early admission fee of $10 to visit during the first hour, $5 if you visit after 6:30am.
Rose Bowl Flea Market
This is a GIANT market with over 2,500 vendors. Located at the Rose Bowl in Pasadena, it markets itself as "the shopping place of the stars." It's open one Sunday each month from 9am to 3pm (check the schedule for dates).
Connecticut
Elephant's Trunk County Flea Market
Located in New Milford, Connecticut, this is the largest outdoor flea market in New England. It's open every Sunday from April through November. There's a $20 fee for early admission at 5:45am and a $2 admission fee after 7am.
Illinois
Chicago Antique Market
There's a larger outdoor market in the summer on Saturdays and Sundays, and a smaller indoor market in the winter. The prices are on the high side, but furniture is of good quality and you'll find lots of lovely mid-c pieces.
Kane County Flea Market
From March through December, this market outside of Chicago opens one Saturday and Sunder per month (check the schedule for specific dates). Admission is $5, and you'll find a good selection of reasonably priced furniture.
Indiana
Shipshewana Auction & Flea Market
Open Tuesdays and Wednesdays from 8am to 5pm, May through October, this is the Midwest's largest outdoor flea market. Located in the heart of Amish country, it features lots of handmade furniture and local farm stands. There's also a regular market that's open most days of the week.
Louisiana
The French Market
This flea market, located within New Orlean's historic French Market district, is open 7 days a week. It's busiest on weekends, when vendors fill the stalls with vintage clothing, art, jewelry, crafts, and fabrics.
Massachusetts
Grafton Flea Market
This indoor/outdoor flea market (located in the Boston metro area) has hundreds of vendors. It's open on Sundays from 6am to 4 pm, Aparil through December. In the summer, the market is larger and has more vendors.
Brimfield Antique Show
This flea market is held three times each year, and it's HUGE with over 6,000 vendors. (Check the schedule here.) It's been in operation for over 50 years, and you'll find a lot of "antiques roadshow" style shoppers at this market.
New York
Brooklyn Flea
On Saturdays from 11 am to 6 pm, the outdoor Brooklyn Flea Market pops up in Fort Greene. (They also have a smaller Sunday market at One Hanson.) The New York Times calls it "One of the great urban experiences in New York."
GreenFlea
This is "the biggest flea market in New York City," located on the Upper West Side on Columbus at 77th. The Sunday market is open 10am to 5:30pm, November through March, and 10am to 6pm, April through October.
North Carolina
State Fairgrounds Flea Market
This flea market is open in the Raleigh area every Saturday and Sunday from 9am to 6pm, except in October when it's closed to make room for the big State Fair. It markets itself as the "largest selection of antiques, jewelry and furniture in North Carolina."
Pennsylvania
Pennsy Flea Market
This is Philadelphia's largest indoor flea market, open year-round on Saturdays and Sundays from 8am to 6pm. There are over 300 vendors, and prices range from $50 to $100. From what we can tell, there are lots of vendors with smaller items and less big furnishings.
Fairmount Flea Market
There are about 175 vendors at this outdoor market, the largest summer flea in Philadelphia. It takes place near the Bache-Martin School. For a schedule, check out the Phila Flea Market directory online.
Tennessee
Nashville Flea Market
This mega flea market hosts dealers from over 30 states. Located at the Tennessee State Fairgrounds, it's open year-round (except for December) on the fourth weekend of each month. Admission is free; check the schedule for further details.
Texas
Canton Flea Market
This market, also known as "First Monday Trade Days" is located within driving distance of Dallas. It's been in operation for more than a century, and it's one of the world's largest outdoor flea markets. It takes place Thursday - Sunday before the first Monday of every month.
Washington, DC
Georgetown Flea Market
Vendors at the Georgetown Flea Market come out every Sunday from 8am-4pm all year long. Come early for the best picks and late for good deals, when sellers are often willing to cut prices rather than reload unclaimed items.
Eastern Market
Every Sunday (weather permitting) from 10 am to 5 pm, DC's Eastern Market hosts around 100 vendors selling artwork, crafts, antiques, and collectibles. The Eastern Market is also known for its farmers market, which is open year-round daily.
RELATED POSTS:
• Vintage Flea Markets in the Pacific Northwest
• Alameda Flea Market: Tips
• Guide to Illinois Flea Markets

• Do we have an address or listing wrong? Send us an email and let us know!
• Have we missed your favorite flea market? Send us an email and ask us to add it to the guide!

Photo: Brooklyn Flea Blog