Floating Plant Hangers Will Create a Space-Saving Oasis in Your Home
We
independently
select these products—if you buy from one of our links, we may earn a commission. All prices were accurate at the time of publishing.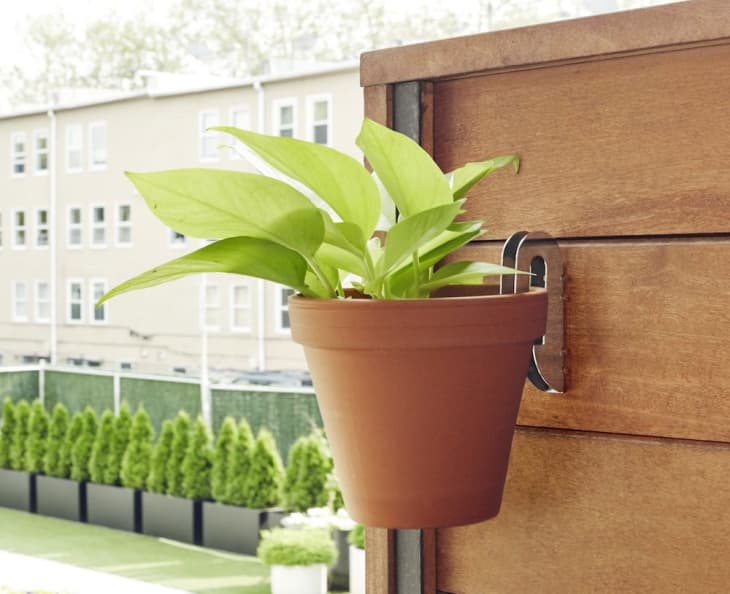 Calling all plant parents with homes already filled to brim with greenery: Kikkerland has the ultimate plant device to allot even more room for those never-ending collections of leafy greens. Floating plant hangers are the space-saving solution that every person with a green thumb did not know they needed until now. The device—one that simply needs to be mounted to a wall, and one that's good for the indoors and outdoors—also creates the illusion of floating plants to curate the ultimate oasis for plant parents. 
Kikkerland has a set of three metallic floating plant hangers that retails at $10. Just screw the mount onto a wall, and the rim of the potted plant should easily slide under the hook of the hanger. The secondary edge of the hanger should hold the pot securely in place. The product should work with any potted planter that has a lip. An added bonus: the product qualifies for free shipping to the U.S. and Canada, and it's also available in the U.K. and Europe. 
For those whose apartment floors and window sills are filled with potted plants on potted plants on potted plants, floating plant hangers are ideal and even offer a nice artistic touch. Picture it now: a plant wall, lined with plants—an apartment feature just about as swoon-worthy as a wall lined with art prints. Kikkerland's expansive garden collection also offers products to maintain that plant wall and all those other collections of greens. A cactus-shaped terrarium ($70), a luxe gold garden fork and trowel ($17), and a vintage watering can ($38) are some of the items worth exploring, too. 
As we all collectively spend more time indoors due to the coronavirus pandemic, now seems like the ideal time to create an indoor mini garden oasis filled with potted plants. There's no such thing as too much plants, after all.