6 Gorgeous Flowers You Can Grow from Bulbs — Starting Right Now
We independently select these products—if you buy from one of our links, we may earn a commission. All prices were accurate at the time of publishing.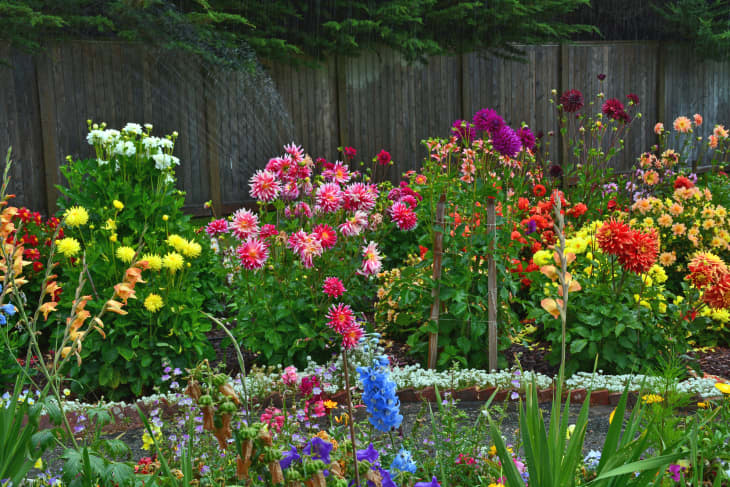 It's finally spring! You might begin to see some flowers are popping through the dirt, trees developing tiny buds or even blooms, or leaves beginning to unfurl. Any daffodils or tulips you planted in the fall will be making their way to the surface now, or even possibly blooming. But if you didn't have time to do any gardening in the fall, don't worry — there are still a number of flowers that you can plant from bulbs this spring. That's right: Gardening is for everyone, even procrastinators.
Spring-planted bulbs can be planted in these last days of April or in early May and are generally not planted very deep, so they take a bit less effort than their fall-planted friends. (But if it is fall-planted blooms you're after, it's possible: Look at your local garden centers, nurseries, or even grocery stores for fully sprouted flowers like tulips or daffodils, which you can plant straight in the ground right now.) For gorgeous color through summer and autumn, though, here are six bulbs, corms, and tubers that you can plant now.
The tall spikes of the gladiolus come in a variety of colors and are always stunners in a sunny garden. You might recognize their stiff, structural leaves, which make them a great space-filler for the garden.
Gladiolus flowers last from early- to mid-summer, but even after they're gone, the leaves stay behind to extend the show. Remember not to pull those leaves out too quickly after bloom; they help feed the bulb so it can replenish itself and come back next year if you're in a zone where these are hardy (zones 7 through 10).
If you live in a colder zone, you can still encourage gladiolus to come back. Once the blooms and leaves are done for the season, dig up the gladiolus corms to store in a cool, dry place for the winter; then, replant next spring. 
You can find dahlias in any color and any size flower, short or tall, so they're a great fit for both formal gardens and not-so-formal ones. While you can start them from seed, a full tuber is easiest.
Before you buy the bulbs, be careful to confirm the final height of the flower. Some dahlias are short, making them lovely little border or container plants; some, like Dinnerplate Dahlias, are gargantuan and need a bamboo support to thrive, lest they topple over.
Once the flowers are done and the stalk dies in late fall, it's good to let dahlias have one frost before you dig them up and bring them in so that you can be sure they're fully dormant.
Dahlias are only hardy in zones 8 through 11, so be sure to pull them for the colder months if you're in zones 1 through 7. 
Anemones might be one of my favorite spring bulbs to plant because they are hardy to zone 7 — that means I leave them in the ground for the winter here in my home state of Massachusetts.
Their little corms are uninspiring, brown lumps and you might catch yourself thinking "really, this is an anemone?" But it is!
You'll see leaves faster than you think with these flowers. Be sure to read the planting instructions on your package of corms carefully so you can have happy waving anemones in the late summer and fall. One trick to help the dormant corms wake up: Soak them in room-temperature water for a few hours before planting.
Plant one or maybe a few of these standout flowers in a spot in the garden for a real pop of fiery color. The red is the most popular and available, while the oranges and yellows are a bit more rare to see in the garden centers. All are beautiful if they're planted in the right place.
Since crocosmia are a South African import, you'll want to find your best-draining soil and the hottest little patch of sun to plant these stunning blooms.
If your crocosmia doesn't flower the first year, be patient: Sometimes they do need a year to get settled. Let yours overwinter if you live in zones 6 through 9, or dig them up and store in a cool, dry place if you're too far north for them to comfortably overwinter outside. It'll be worth the wait to see hummingbirds snacking on their nectar the following year.
Begonias love a shady enclave and damp soil, so if you're craving a little color in your little enclosed patio or on your north-facing porch or balcony, this is your bulb. Begonias bloom all season and can even be brought inside and kept alive for the winter if you're a dedicated indoor gardener.
I would be remiss to leave off the most elegant shade-tolerant bulb-bloomer. Giving beautiful color all summer long, calla lilies love moist soil ("wet feet" as gardeners say) and enjoy part-shade to full sun.
Even if you cut down the whole lot of flowers as a bouquet the leaves are patterned with specks that are pretty on their own, plus they'll push more blooms for you as the season progresses.
These are another one you might want to consider bringing inside for the winter. They're only hardy to zone 8, but are worth the trouble for classy flowers all season long.