Form Vintage Modern
(Welcome again to Leah, one of the finalists in our Blogger search. She's writing from Oakland. Comment away!) To all AT:SF Blogger Tryout posts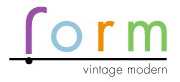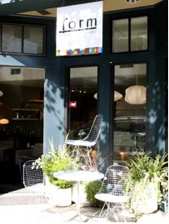 Judiciously mixed in with the clean-lined Danish modern furnishings is a smattering of pieces with more elaborate Hollywood Regency styling: A pair of red lacquered nightstands (which may or may not be by James Mont) as well as Asian modern consoles and sideboards, a faux bamboo occasional table, and a pair of brass wheat-sheaf side tables.
The combination works because the items all have a simple elegance and sophistication. Though midcentury is the store's unifying theme, it's more eclectic than you might expect. "We specialize in things that are unusual and relatively accessible," Joe Kunis says.
Rounding out Form's offerings are reissues of George Nelson's iconic Bubble Lamps, new midcentury-style sofas and chairs from Bombast, and Alessi tableware. Delicate pottery by Emeryville ceramicist Sara Paloma as well as colorful blown glass and vintage ceramics grace many of the tables and shelves. Seventies Op-Art serigraphs share a bright exuberance with contemporary work by local artists such as Bethany Ayres and Justin O'Neill.
Although roughly 90 percent of Form's wares are vintage, everything in the store is in pristine condition. If it's not mint (and most of it is), then the Kunises have it refinished and reupholstered so that it shines like new. And unlike a lot of high-end showrooms with similarly pedigreed stock, the vibe at Form is laid-back and friendly, and Joe is happy to chat and to fill in his customers about each piece and its maker.
Prices for signed sideboards, chairs, tables, and dinette sets are not for budget shoppers — they run several hundred to a few thousand dollars apiece — but still compare favorably to similar stores in San Francisco, making an excursion across the Bay Bridge worth your while if you're on the hunt for classic, collectible furnishings. (Plus, Kunis says that prices for many vintage items are negotiable.) Most of the store's accessories cost under $100, and many can be had for less than $50. You can also snag relative bargains by keeping an eye out for the shop's occasional eBay auctions.
Form Vintage Modern is located six blocks south of the Rockridge BART station and is open Wednesdays through Sundays from noon until 6 p.m.
Published: Jul 6, 2007