Here's the Schedule for Freeform's '25 Days of Christmas' Movie Marathon
We independently select these products—if you buy from one of our links, we may earn a commission. All prices were accurate at the time of publishing.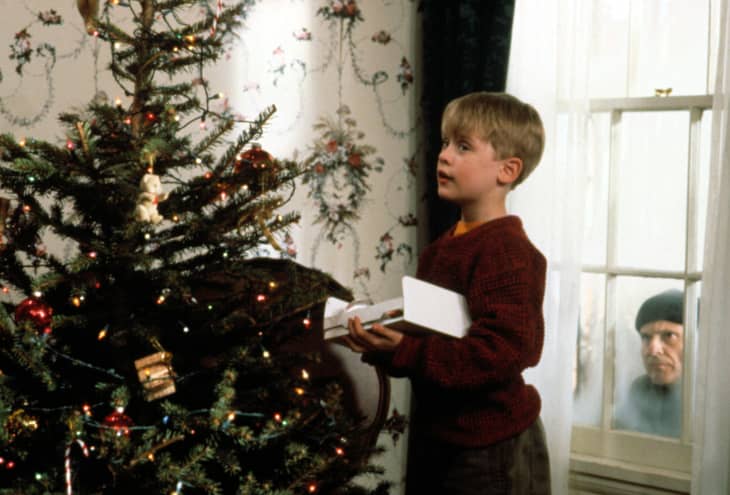 Maybe Christmas season started for you the day after Halloween. Maybe it started after your turkey dinner last night. Either way, you can start your Christmas movie marathon as soon as today on Freeform. 
Follow Topics for more like this
Follow for more stories like this
The cable channel starts its "25 Days of Christmas" event on December 1, but if that's too long a wait, you can start now with its "Kickoff to Christmas," which runs through November and includes non-holiday movies in its lineup.
Most notable about this year's Freeform Christmas schedule is that it includes classics Rudolph the Red-Nosed Reindeer and Frosty the Snowman, broadcast on cable for the first time ever, according to Country Living. Other highlights include The Holiday, The Nightmare Before Christmas, and all the Home Alone movies replayed enough times to satisfy the most zealous of fans.
Check out the full schedule below to plan your holiday couch time.
11:30 a.m. – Happy Feet Two
1:30 p.m. – Fantastic Mr. Fox
3:30 p.m. – Home Alone
6 p.m. – Home Alone 2: Lost in New York
8:40 p.m. – Shrek
10:45 p.m. – Mary Poppins (1964)
7 a.m. – The Chronicles of Narnia: Prince Caspian
10:15 a.m. – Mary Poppins (1964)
1:30 p.m. – Deck the Halls
3:35 p.m. – Arthur Christmas
5:40 p.m. – Shrek
7:45 p.m. – The Santa Clause
9:50 p.m. – The Santa Clause 2
11:55 p.m. – The Santa Clause 3: The Escape Clause
7:00 a.m – Richie Rich's Christmas Wish
9:05 a.m. – Deck the Halls (2006)
11:10 a.m. – Arthur Christmas
1:15 p.m. – The Simpsons Holiday-thon
2:45 p.m. – The Santa Clause
4:50 p.m. – The Santa Clause 2
6:55 p.m. – The Santa Clause 3: The Escape Clause
9:00 p.m. – Dr. Seuss' How the Grinch Stole Christmas (2000)
11:30 p.m. – Home Alone: The Holiday Heist
1:30 a.m. – The Little Drummer Boy (1968)
7:00 a.m. – The Little Drummer Boy (1968)
7:30 a.m. – The Muppets Christmas Carol
11:00 a.m. – Wrap Battle
12:00 p.m. – Home Alone: The Holiday Heist
2:05 p.m. – Richie Rich's Christmas Wish
4:15 p.m. – Deck the Halls (2006)
6:20 p.m. – Dr. Seuss' How the Grinch Stole Christmas (2000)
9:00 p.m. – Wrap Battle – New Episode
10:00 p.m. – Wrap Battle – New Episode
7:30 a.m. – Santa Baby
11:00 a.m. – The Preacher's Wife
1:40 p.m. – Decorating Disney: Holiday Magic
2:40 p.m. – Rise of the Guardians
4:45 p.m. – Santa Claus Is Comin' to Town
5:50 p.m. – Home Alone
8:20 p.m. – Home Alone 2: Lost in New York
12:00 a.m. – The Simpsons Holiday-thon
7:30 a.m. – Santa Baby 2: Christmas Maybe
11:00 a.m. – Rise of the Guardians
1:00 p.m. – Santa Claus Is Comin' to Town
2:00 p.m. – The Simpsons Holiday-thon
4:00 p.m. – Home Alone
6:30 p.m. – Home Alone 2: Lost in New York
9:00 p.m. – Ghosting: The Spirit of Christmas – Freeform Original Feature Premiere
12:00 a.m. – Deck the Halls (2006)
7:30 a.m. – Holiday in Handcuffs
11:00 a.m. – Wrap Battle
12:00 p.m. – Kung Fu Panda Holiday
12:30 p.m. – Unaccompanied Minors
2:30 p.m. – Deck the Halls (2006)
4:35 p.m. – Arthur Christmas
6:40 p.m. – Tim Burton's The Nightmare Before Christmas
8:20 p.m. – Dr. Seuss' How the Grinch Stole Christmas (2000)
12:00 a.m. – Unaccompanied Minors
7:30 a.m. – Richie Rich's Christmas Wish
11:00 a.m. – Kung Fu Panda Holiday
11:30 a.m. – Home Alone 3
1:35 p.m. – Arthur Christmas
3:40 p.m. – Tim Burton's The Nightmare Before Christmas
5:20 p.m. – Dr. Seuss' How the Grinch Stole Christmas (2000)
8:00 p.m. – Frosty the Snowman – Freeform Premiere
8:30 p.m. – Rudolph the Red-Nosed Reindeer – Freeform Premiere
9:30 p.m. – The Santa Clause
11:30 p.m. – The Santa Clause 2
1:30 a.m. – The Little Drummer Boy (1968)
7:00 a.m. – Cricket on the Hearth
8:00 a.m. – Home Alone 3
10:00 a.m. – Home Alone 4: Taking Back the House
12:00 p.m. – The Santa Clause
2:05 p.m. – The Santa Clause 2
4:10 p.m. – The Santa Clause 3: The Escape Clause
6:15 p.m. – Frosty the Snowman
6:45 p.m. – Rudolph the Red-Nosed Reindeer
7:50 p.m. – Home Alone
10:20 p.m. – Home Alone 2: Lost in New York
1:00 a.m. – Wrap Battle
7:00 a.m. – Wrap Battle
8:00 a.m. – Home Alone 4: Taking Back the House
10:00 a.m. – I'll Be Home for Christmas (1998)
12:00 p.m. – Prancer Returns – Freeform Premiere
2:05 p.m. – The Santa Clause 3: The Escape Clause
4:10 p.m. – Home Alone
6:40 p.m. – Home Alone 2: Lost in New York
9:20 p.m. – Despicable Me 2
11:25 p.m. – Shrek
1:30 a.m. – Kung Fu Panda Holiday
7:30 a.m. – I'll Be Home for Christmas (1998)
11:00 a.m. – Decorating Disney: Holiday Magic
12:00 p.m. – Home Alone 3
2:10 p.m. – Home Alone: The Holiday Heist
4:20 p.m. – Kung Fu Panda Holiday
4:50 p.m. – Shrek
6:55 p.m. – Despicable Me 2
9:00 p.m. – Wrap Battle – New Episode
10:00 p.m. – Wrap Battle – Season Finale
7:30 a.m. – Home Alone: The Holiday Heist
11:00 a.m. – Wrap Battle
12:00 p.m. – The Mistle-Tones
2:05 p.m. – Ghosting: The Spirit of Christmas
4:10 p.m. – Deck the Halls (2006)
6:15 p.m. – Arthur Christmas
8:20 p.m. – Dr. Seuss' How the Grinch Stole Christmas (2000)
12:00 a.m. – The Simpsons Holiday-thon
7:30 a.m. – 12 Dates of Christmas
11:00 a.m. – Deck the Halls (2006)
1:10 p.m. – Arthur Christmas
3:20 p.m. – The Simpsons Holiday-thon
5:20 p.m. – Dr. Seuss' How the Grinch Stole Christmas (2000)
8:00 p.m. – Same Time, Next Christmas – Freeform Premiere
10:00 p.m. – Decorating Disney: Holiday Magic
12:00 a.m. – Life-Size 2: A Christmas Eve
7:00 a.m. – The Preacher's Wife
11:00 a.m. – This Christmas
1:35 p.m. – The Perfect Holiday – Freeform Premiere
3:35 p.m. – The Holiday
6:50 p.m. – The Santa Clause
8:55 p.m. – The Santa Clause 2
12:00 a.m. – Snow
7:00 a.m. – Love the Coopers
12:30 p.m. – The Santa Clause
2:35 p.m. – The Santa Clause 2
4:40 p.m. – The Santa Clause 3: The Escape Clause
6:45 p.m. – Home Alone
9:15 p.m. – Home Alone 2: Lost in New York
11:55 p.m. – Home Alone: The Holiday Heist
7:00 a.m. – Home Alone: The Holiday Heist
9:00 a.m – Arthur Christmas
11:00 a.m. – The Simpsons Holiday-thon
2:00 p.m. – The Santa Clause 3: The Escape Clause
4:05 p.m. – Home Alone
6:35 p.m. – Home Alone 2: Lost in New York
9:15 p.m. – Dr. Seuss' How the Grinch Stole Christmas (2000)
11:55 p.m. – Richie Rich's Christmas Wish
7:00 a.m. – Arthur Christmas
9:05 a.m. – Richie Rich's Christmas Wish
11:10 a.m. – Unaccompanied Minors
1:20 p.m. – Deck the Halls (2006)
3:25 p.m. – Tim Burton's The Nightmare Before Christmas
5:05 p.m. – Dr. Seuss' How the Grinch Stole Christmas (2000)
7:45 p.m. – The Santa Clause
9:50 p.m. – The Santa Clause 2
11:55 p.m. – The Santa Clause 3: The Escape Clause
7:00 a.m. – Deck the Halls (2006)
9:00 a.m. – Disney's Prep & Landing: Naughty vs. Nice
11:00 a.m. – The Santa Clause 3: The Escape Clause
1:05 p.m. – Tim Burton's The Nightmare Before Christmas
2:45 p.m. – Rise of the Guardians
4:50 p.m. – The Santa Clause
6:55 p.m. – The Santa Clause 2
9:00 p.m. – Good Trouble – Holiday Special Event
7:00 a.m. – Race for Your Life, Charlie Brown
8:30 a.m. – Prancer Returns
10:30 a.m. – Rise of the Guardians
12:35 p.m. – Richie Rich's Christmas Wish
2:40 p.m. – The Holiday
5:50 p.m. – Home Alone
8:20 p.m. – Home Alone 2: Lost in New York
12:00 a.m. – The Simpsons Holiday-thon
7:00 a.m. – Prancer Returns
9:00 a.m. – I'll Be Home for Christmas (1998)
11:05 a.m. – Richie Rich's Christmas Wish
1:10 p.m. – The Simpsons Holiday-thon
3:10 p.m. – Home Alone
5:40 p.m. – Home Alone 2: Lost in New York
8:20 p.m. – Dr. Seuss' How the Grinch Stole Christmas (2000)
12:00 a.m. – Ghosting: The Spirit of Christmas
7:30 a.m. – Decorating Disney: Holiday Magic
8:30 a.m. – Snowglobe
10:30 a.m. – 12 Dates of Christmas
12:30 p.m. – Deck the Halls (2006)
2:35 p.m. – The Santa Clause 3: The Escape Clause
4:40 p.m. – Dr. Seuss' How the Grinch Stole Christmas (2000)
7:20 p.m. – Tim Burton's The Nightmare Before Christmas
9:00 p.m. – Disney-Pixar's Toy Story
11:00 p.m. – Rise of the Guardians
1:00 a.m. – Decorating Disney: Holiday Magic
7:00 a.m. – Snow
9:00 a.m. – Snow 2: Brain Freeze
11:00 a.m. – Deck the Halls (2006)
1:00 p.m. – The Santa Clause 3: The Escape Clause
3:00 p.m. – Tim Burton's The Nightmare Before Christmas
4:40 p.m. – Santa Claus Is Comin' to Town
5:45 p.m. – Frosty the Snowman
6:15 p.m. – Rudolph the Red-Nosed Reindeer
7:20 p.m. – Disney-Pixar's Toy Story
9:20 p.m. – Disney-Pixar's Toy Story 2
11:25 p.m. – Disney-Pixar's Toy Story That Time Forgot
11:55 p.m. – Arthur Christmas
7:00 a.m. – The Little Drummer Boy (1968)
7:30 a.m. – Prancer Returns
9:40 a.m. – Arthur Christmas
11:50 a.m. – Santa Claus Is Comin' to Town
12:55 p.m. – Frosty the Snowman
1:25 p.m. – Rudolph the Red-Nosed Reindeer
2:30 p.m. – Disney-Pixar's Toy Story 2
4:35 p.m. – Disney-Pixar's Toy Story That Time Forgot
5:05 p.m. – The Santa Clause
7:10 p.m. – The Santa Clause 2
9:15 p.m. – Dr. Seuss' How the Grinch Stole Christmas (2000)
11:55 p.m. – The Santa Clause 3: The Escape Clause
7:00 a.m. – The Holiday
10:15 a.m. – The Santa Clause
12:25 p.m. – The Santa Clause 2
2:35 p.m. – The Santa Clause 3: The Escape Clause
4:40 p.m. – Dr. Seuss' How the Grinch Stole Christmas (2000)
7:20 p.m. – Home Alone
9:50 p.m. – Home Alone 2: Lost in New York
12:30 a.m. – The Little Drummer Boy (1968)
1:00 a.m. – Decorating Disney: Holiday Magic
7:00 a.m. – Disney's Fairy Tale Weddings: Holiday Magic
8:00 a.m. – Richie Rich's Christmas Wish
10:00 a.m. – Deck the Halls (2006)
12:00 p.m. – Prancer Returns
2:05 p.m. – Arthur Christmas
4:10 p.m. – Home Alone
6:40 p.m. – Home Alone 2: Lost in New York
9:20 p.m. – Dr. Seuss' How the Grinch Stole Christmas (2000)
7:00 a.m. – The Little Drummer Boy (1968)
7:30 a.m. – Prancer Returns
11:00 a.m. – Kung Fu Panda Holiday
11:30 a.m. – Arthur Christmas
1:30 p.m. – The Santa Clause
3:35 p.m. – The Santa Clause 2
5:40 p.m. – Dr. Seuss' How the Grinch Stole Christmas (2000)
8:20 p.m. – Frosty the Snowman
8:50 p.m. – Rudolph the Red-Nosed Reindeer
9:55 p.m. – Santa Claus Is Comin' to Town
12:00 a.m. – The Simpsons Holiday-thon
7:00 a.m. –Richie Rich's Christmas Wish
9:00 a.m. – Disney's Prep & Landing: Naughty vs. Nice
11:00 a.m. – The Santa Clause
1:05 p.m. – The Santa Clause 2
3:10 p.m. – Frosty the Snowman
3:40 p.m. – Rudolph the Red-Nosed Reindeer
4:45 p.m. – Santa Claus Is Comin' to Town
5:50 p.m. – Home Alone
8:20 p.m. – Home Alone 2: Lost in New York
12:00 a.m. – Deck the Halls