The Apartments on 'Friends' Are Surprisingly More Realistic Than You Thought
We independently select these products—if you buy from one of our links, we may earn a commission. All prices were accurate at the time of publishing.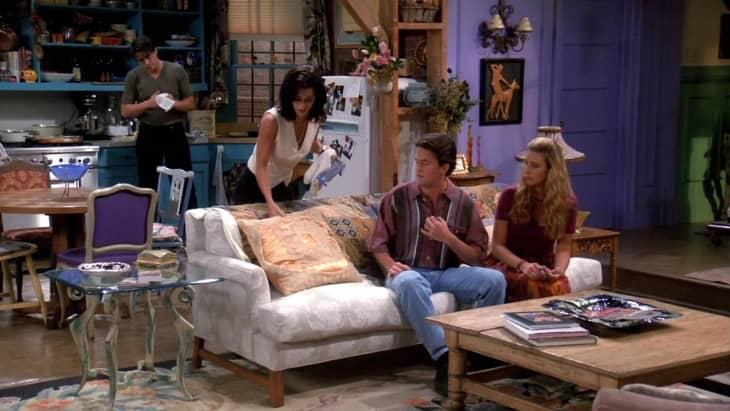 In the 25 years since it began airing, "Friends" has set expectations for countless viewers about life in New York City—from a studio in Burbank, California. Those of us who grew up watching the show have since learned more about the realities of adulthood beyond the "Friends" theme song: specifically, that you can't expect to live in a spacious, two-bedroom apartment in New York City while spending most of your time hanging out at a coffee shop with friends, even in the nineties. 
Follow Topics for more like this
Follow for more stories like this
The building where most of the show supposedly takes place, 90 Bedford Street in Greenwich Village, is home to Monica's iconic purple-walled apartment and the more modest apartment across the hall where Chandler and Joey live at the start of the show. According to Berman, this building is considered a "dumbbell tenement," so named because of the narrow air shafts required for ventilation that made these buildings look like two side-by-side dumbbells from above.
"The required air shafts were typically so narrow though that you could literally reach out and stick your arm through the window of an adjacent tenement," wrote Berman. You can see this quirky architectural feature in the episode with the neighbor who sings "Morning is here!" waking up Rachel and Joey.
In terms of rent costs, the apartments at 90 Bedford Street may have actually have been plausible for the characters who lived there—at least more plausible than we've come to think. Old buildings like this one, which was built in the late 1800s, were rent stabilized. While rent stabilization rules relaxed for landlords in 1993, Joey and Chandler may have moved in early enough to score affordable rent. Monica's apartment, while much fancier, was supposedly an inheritance from her grandmother. According to Berman, she could have kept her grandmother's rent cost through succession rights, as long as she could show that she lived in the apartment with her grandmother while she was still alive.
Of course, there were also plenty of unrealistic apartment-related plot points on "Friends" too. For example, impulsively switching apartment units "could definitely be grounds for eviction," Berman wrote. Check out the full article on 6sqft for even more surprising "Friends" apartment facts.