This Unexpected Pastel Is the Top Trending Front Door Color for 2024
We independently select these products—if you buy from one of our links, we may earn a commission. All prices were accurate at the time of publishing.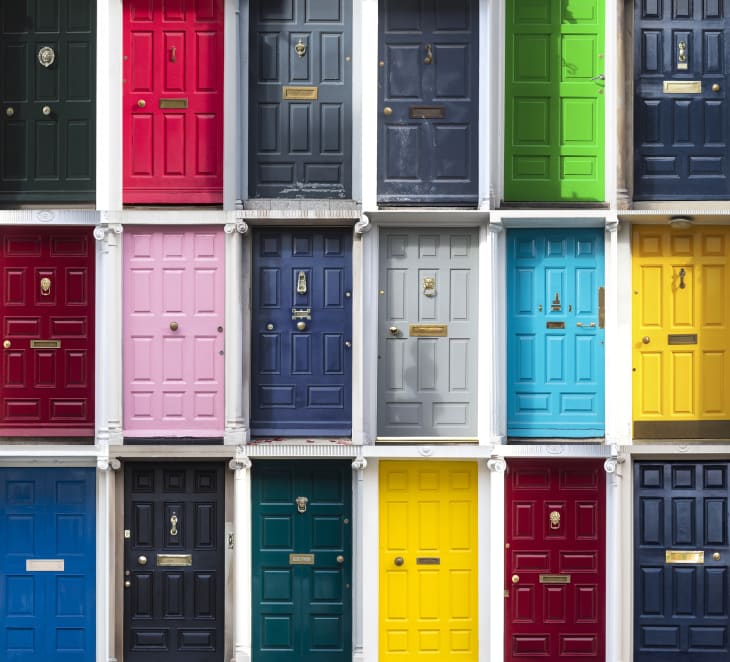 If you're looking to switch up your front door's shade soon, the design pros at Magnet Trade have shared the most-searched trending front door colors ahead of 2024, and the top picks are a mix of vibrant, unexpected hues. Turns out that lilac front doors have spiked in searches over the past 12 months, with Magnet Trade's head of design, Jen Nash, telling Apartment Therapy that they're seeing "classic front door colors, such as red, blue and gray, decrease in popularity, making way for warm and welcoming pastel and brighter hues that exude character and personality.''
On Google, searches for "lilac front doors" have skyrocketed by 271 percent over the past year, while TikTok has seen a whopping 240 percent increase, and Pinterest searches have increased by 100 percent.
"Evoking feelings of serenity, relaxation and sophistication, lilac front doors are taking center stage this year as homeowners are increasingly looking to create welcoming and peaceful homes," says Nash. "Pairing well with both light and dark exterior paint or brick work, it's also a versatile color that complements a variety of architectural styles and color palettes."
"It's essentially a more romantic and playful version of gray, making it the ideal color choice for those that want a clean and subtle front door with a splash of color and character," she adds.
Following behind in second place, Barbiecore still reigns supreme, with searches for "hot pink front doors" increasing 86 percent on Google and 89 percent on TikTok over the last 12 months, respectively. And while it's certainly a bold choice, Nash recommends finding a lighter shade of pink if you want that sweet spot between Barbie Dreamhouse and something a bit more subtle.
"Vibrant and eye-catching, a hot pink front door certainly makes a design statement and will make your home stand out," she says. "It is, however, a very bold color choice that may not resonate with everyone and potentially narrow your pool of potential buyers when you decide to sell. Also, a lot of architectural styles and home exteriors may not be well-suited to this bright of a color. For example, a historic home with a classic design may be better complemented by a softer color choice. If you love the hot pink hue, go for it. But, if you're looking for a front door color that will withstand the test of time and boost your curb appeal, a pastel-toned pink and pastel hues in general, are a reliable and on-trend choice."
"Pastels strike the perfect balance between vibrancy and subtlety — adding a pop of color to make your home stand out whilst remaining elegant and tasteful," she notes.
With a 50 percent spike on Google, "lemon front doors" are seeing a resurgence … something this very writer with her own lemon yellow front door happily cosigns. "The revival of mid-century modern design may be one of the factors fueling the popularity of yellow front doors, as it was a prominent color choice during that design era," says Nash. But, consciously or subconsciously, homeowners are also being drawn to the color as a way to tap into the mood it provokes amid uncertain times."
"Yellow is renowned for its mood-boosting properties, as it's thought to help release serotonin in the brain," she says. "Sparking feelings of energy, positivity and happiness, coming home to a yellow front door can very quickly put a smile on your face and set the mood for what's inside. Whilst it may be a color usually associated with the summer months, it can transform the exterior of your property and uplift your home even in the darker months of winter."
Rounding out the top five trending front door colors is royal blue with a 49 percent increase in Google searches and mustard yellow (a slightly more subdued take on the lemon yellow trend) with 33 percent.

No matter which new hue you choose, you'll love the instant refresh a few coats of paint can achieve. "A fresh coat of paint on your front door can instantly enhance your home's curb appeal, set the tone of your exterior and make a lasting first impression," says Nash. "Best of all, this is a straightforward task that even DIY beginners can accomplish."