FSBO: 870 W. 181st Street
(FSBO stands for For Sale By Owner. We're here to help. Readers are welcome to submit to: editor (at) apartmenttherapy (dot) com and put "FSBO" in the subject line.)

Location: 870 W. 181st Street #58
Size: @ 560
Price: $299,000
Maint: $508
Contact: Scanlynn
Pitch: Attached are photos of my little home, which I'm selling F.S.B.O. I live on 181st Street, in Washington Heights (Manhattan). I'm 1 block from the Hudson river and a beautiful park with a little red lighthouse that runs along the river. I'm also close to Fort Tryon park and the Cloisters. The apartment is steps away from the A express train and a few blocks from the 1 train. You can be in midtown in 20 minutes.
The neighborhood has become quite upscale in recent years, with a top-end spa, a number of fine-dining restaurants and Pilates and Yoga studios right nearby. The community remains diverse and friendly.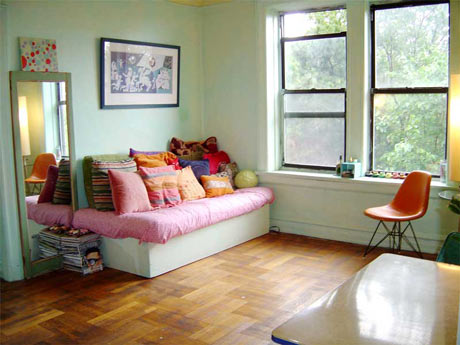 My apartment faces southwest. In the spring / summer, you'll see trees and a few glimpses of the city out the window. In the winter / fall, you'll have a southern view of downtown, with a peek of the river. This apartment could not be more sunny.
The bathroom is completely renovated, including the plumbing in the walls.
Fixtures are either vintage re-installed or top of the line Boffi, including my "Soap" sink with custom-made stainless storage drawer and the water temperature regulator in the shower. The kitchen could use some work but it has a lovely layout and a beautiful big window. Everything is operable.
Also, the whole pre-war apartment (9ft. ceilings) has been rewired, to suit all modern electrical needs and devices.
This has been such a happy place for me and I hope I can find it a nice owner. I'm asking $299,000 and the maintenance is $508. I believe there is a still a special mortgage rate available from BNY that offers a 30 year fixed at a 4.875 rate, so monthly payments will be lower than a lot of rent for this type of space, plus you get the tax deduction!
Published: Jul 10, 2006