25 Fun (and Affordable) Double Date Ideas That Aren't Just Another Dinner
We
independently
select these products—if you buy from one of our links, we may earn a commission. All prices were accurate at the time of publishing.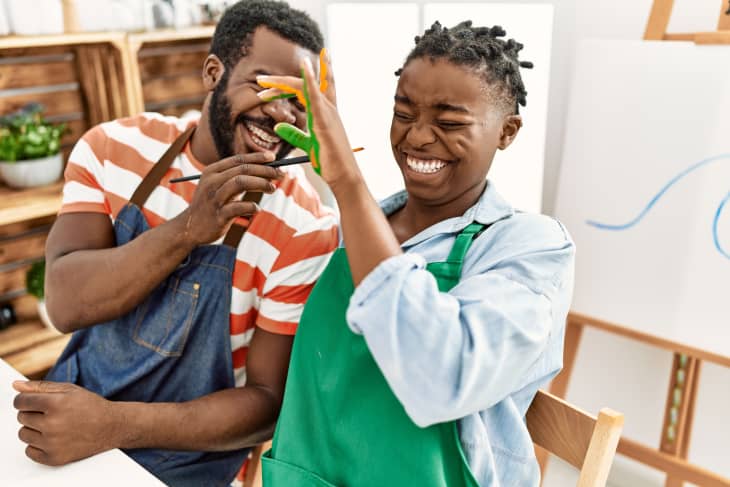 Though date nights are typically reserved for a party of two, more can sometimes be merrier. Inviting another couple to a double date can be an excellent way to honor your relationship and clock in some quality time with friends, colleagues, or family members. What makes planning a double date difficult, however, is finding an activity that will appeal to everyone. Unlike coordinating a date with your significant other — where you're well aware of your shared interests and budgets — sussing out what your fellow couple likes to do and what they can afford can be a tad stressful. (Sure, I love a good meal as much as the next foodie, but a dinner date is decidedly overplayed.)
To spark inspiration, I'm sharing a bunch of on-point double date ideas that cost $25 or less per person . It doesn't matter if you're craving an idyllic outdoor adventure or some cozy time indoors, there's something here for all couples — yes, even your double date group.
1. Host a movie night in.
Whether you choose to stream a brand new show or watch tried-and-true favorites, a movie night is a surefire way to kick back, relax, and enjoy. (Since talking is often to a minimum during movie marathons, it's a great idea for inaugural double dates.)
2. Learn a new TikTok dance.
Ready to break out your dancing shoes? Learning a trendy combination is sure to pack on the sweat and smiles. Once you've all perfected the moves, upload the final product to your feed and share it with your inner circle.
3. Be tourists in your own city.
Explore your neck of the woods by breaking out your bike — or renting one for the day! — and exploring historical landmarks in the area. Once you're done, you might've worked up an appetite to grab a bite to eat at your go-to local restaurant.
4. Enjoy a night at the museum.
Did you know some museums offer free entry to locals on a certain days or host monthly "late nights" with extended hours and refreshments? Here's your excuse to get dressed up and learn something new.
5. Host an at-home whiskey tasting.
Show off your extensive whiskey collection with an exclusive tasting where the whole crew can dissect each pour's notes and nuances. (This idea can be recreated with wine or non-alcoholic seltzer, too!) If not everyone's onboard with the libation of choice, assign someone the duty of bartender and make this a blind tasting.
6. DIY ooey, gooey pizza.
If you want to chow down on something delicious but don't want to book a reservation, try your luck with a homemade pizza night. Pick up a batch of conventional and unconventional toppings — think pepperoni, pineapple, and sardines — and let everyone's taste buds guide them to the perfect pie.
7. Embrace your competitive streak with game night.
Ask everyone in your party of four to bring their favorite game and host a night of nonstop fun. From Clue to Cards Against Humanity, this idea delivers on the (friendly) competition.
8. Flex your funny bone with a comedy show.
They say that laughter is the best medicine, but it's also an ingredient for a great double date. Corral the crowd to check out a lineup of local comedians.
9. Pack a picnic in the park.
Why stay cooped up inside when the weather is practically begging you to enjoy the beautiful sunshine? Grab a large blanket, an epic cheese board, and beverages of your choice and soak up the vitamin D together.
Make an excuse to see your fellow bookworms on a regular basis by forming your own book club. Each month, members can take turns choosing the tome to talk about. (Pro tip: Pack each meeting with snacks!)
11. Sweat to a new workout class.
Any couples who like to push their physical limits will find a lot of enjoyment in trying a new workout. To make this double date idea a fun challenge for all, select a class that nobody has ever tried before such as trapeze training or aerial yoga.
12. Play the newlyweds game.
You don't have to actually be newlyweds to enjoy this fun game. Pick up some whiteboards and have each duo can take turns answering questions about their significant other. It's a fun way to learn more about the other couple and your very own partner.
13. Test your IQ at trivia night.
Why organize your own quiz when plenty of bars and restaurants host weekly trivia nights? With a range of topics from pop culture to history, this game is a great way to show off your area of expertise. (Who knows? If everyone has a particularly fun time, you can make this a weekly outing!)
14. Get sentimental with scrapbooks.
Take a trip down memory lane by assembling relationship scrapbooks with your favorite couple. Though you'll assemble (and reminisce!) together, each duo will be responsible for picking up their own scrapbook and finding their favorite mementos. From old concert tickets to dried flowers, this idea is a welcomed blast from the past.
Heed your call to the wild by lacing up your hiking boots and trying out a new trail. To capture some memories (perhaps to paste into your scrapbook?) snap a few mid-hike selfies!
16. Take it away with tubing.
If you live near a rushing river, pick up some inflatable inner tubes and enjoyed a rollicking ride. (Don't forget to pack plenty of water and SPF! After all, a bad sunburn is no way to end a double date.)
Flex the left side of your brain with an art class. From chill, wine-fueled paint nights to full-blown pottery classes or glass-blowing workshops, each couple will walk away with a beautiful souvenir.
18. Get spooky with a murder mystery party.
For an action-packed whodunnit, organize a murder mystery party at your house. (While you can always build the game from scratch, there are plenty of pre-made murder mysteries available for purchase online!) If you want to have a larger cast of characters, turn this party into a triple or quadruple date.
19. Slip and slide on a sled.
The weather outside might be frightful, but that doesn't mean you can't bring your double date outside. Instead, embrace your inner child by picking up a few affordable sleds and sliding down your steepest hill. Make this double date even sweeter by busting out the hot cocoa after.
20. Jam out at a concert.
Calling all music lovers: Enjoy some sweet, sweet music at your local music hall. While headlining artists might cost some major coin, you can often find tickets for up-and-coming talent on the cheap. Your favorite band just sold out? Create a killer playlist and recreate the vibe at home.
21. Roll a strike at the bowling alley.
Be honest, when's the last time you went bowling? Revive this old-school pastime with your partner and another couple — all you'll need to pay for is the lane, rental shoes, and, okay, some salty snacks!
ICYMI, a double date idea can be practical, too. If your group has been itching to pick up a new skill, be it guitar or improv, look for an affordable class in your area. Or, if you're really struggling to find the perfect setup, stream some YouTube videos from your television.
23. Double down on backyard games.
Did someone say, "Field day?" It's couple versus couple in an array of fun games, from a three-legged sprint to the classic egg-and-spoon race. To make things interesting, the winner gets a prize — or, at the very least, bragging rights.
24. Go on an impromptu road trip.
Have some time to spare? Pack into a car and see where the road takes you! Whether you're heading out for the day or craving for a weekend-long camping trip, a road trip will help you embrace your adventurous side.
25. Schedule a food tour.
Turn the typical restaurant reservation on its head by bopping around to a bunch of eateries. For example, if there's one neighborhood that's known for its piping hot dumplings or cheesy pizza, try a few and power-rank your faves along the way.