Furniture Woes: The Sentimental Table Conundrum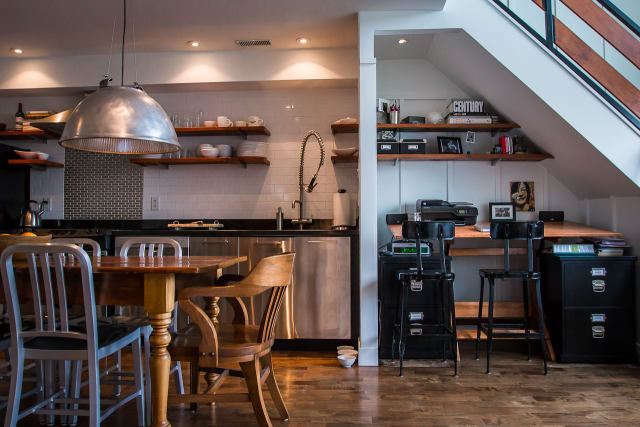 When I renovated my kitchen a few years back, it was in a large part designed around a cherry wood table that was hand built by my grandfather. I adore that table to no end, but lately I've been dreaming up ways to make my kitchen more functional, and a kitchen island would fit the bill.

Unfortunately, my table's large rectangle shape does not leave enough room for an island, where if I had a round table, I could feasibly have both. It's a bit of a conundrum for me; it's beautiful and sentimental but at the same time, I want my kitchen to be the best kitchen possible for my lifestyle.

Growing up, the kitchen was always the cornerstone of the house. Whether we were cooking, eating, or just socializing, the kitchen was inevitably where we spent the majority of our time. This held true for almost every house I spent a significant amount of time in — at both my mom's and dad's house, my best friend's, and my grandparents. The same can now be said for the majority of my friends' houses that I visit. The kitchen tends to be the congregating room, so why shouldn't I want it to live up to its potential?
Just the other day I was lamenting the day's woes with my sister. We were sitting at her kitchen table, a table also made by our grandfather, and we both started talking about our "table conundrum". But while she's in the same boat and can sympathize with my dilemma, her life involves kids, so a big eat-in kitchen table is pretty essential to her lifestyle. The more we talked, the more convinced I became that I had to part with the table in my kitchen, a sentiment she agreed with after a family dinner at my house.
By changing out just one piece of furniture in my kitchen, I would open up enough room for an extra workspace while cooking, as well as a place to store my small kitchen appliances. I could also park a couple barstools at an island for socializing or for when I'm working on my computer. I could temporarily store my table, in hopes that once the sunroom is added off the kitchen in the near future, it will fit perfectly in its new space. And in reality, as long as the island is somewhat portable, the kitchen can always be arranged back to its original layout if I have regrets.
Even though I currently feel my mind is made up, for some reason it's still causing me to fret. But I know I can't be alone. Have you ever had a bittersweet parting of ways with something you cherished beyond words? Is it still cherished if I'm willing to part with it, even if it is only temporary? Does anyone out there have a similar story that will make me feel more at ease with my decision?
(Image: Justice Darragh/Tracey & Rob's Beach Oasis)