The Tropical Mural In Gabrielle Union's Daughter's Room Is So Serene
We independently select these products—if you buy from one of our links, we may earn a commission. All prices were accurate at the time of publishing.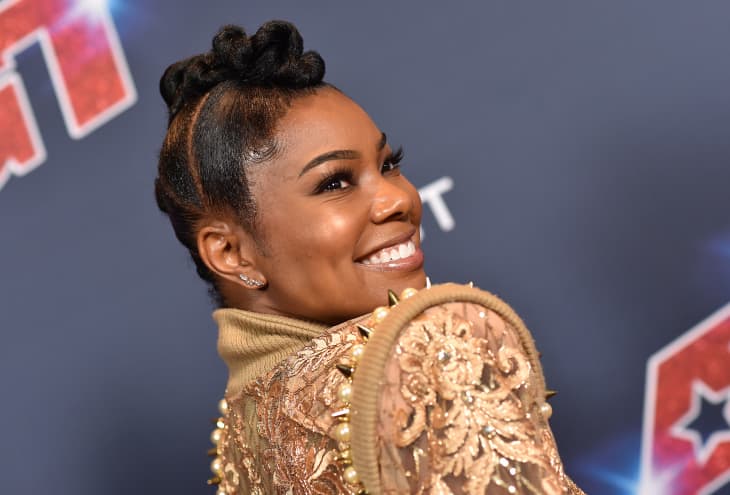 Kaavia James may not have a future in hairstyling, but growing up in a room this beautiful, she'll definitely have an eye for design. Gabrielle Union and Dwyane Wade installed the most calming, serene tropical-print wallpaper (or hand-painted mural — the jury is still out) in their daughter Kaavia's bedroom — and there's nearly an exact dupe available for you to buy online.
Union posted a video of Kaavia attempting to do her mom's hair while her hairstylist is on vacation. But, with a movie playing in the background, how could Kaavia possibly handle two tasks at once? Movie comes first, Mom!
Kaavia is distracted by the movie, and we were distracted by the wallpaper. 
The paper has been featured in many posts from Union, Wade, and Kaavia herself over on her official Instagram page (run by mom and dad, of course). It's a tropical print heavy in sage greens, muted pinks, and calming creams that offers a fun alternative to standard pastel pinks, blues, greens, and yellows often seen in nurseries. 
It's likely this mural is either hand-painted or a custom wallpaper. But, Lulu and Georgia have a best-selling wallpaper that is almost an exact match. It's called the Jungle Wallpaper Mural and features cameos from monkeys, birds, and butterflies.
The Jungle Wallpaper Mural has been installed in so many nurseries, as the site shows at the bottom of the listing, and it's become a favorite among Lulu and Georgia fans thanks to its whimsy and colorfulness.
And although it's a hit with the kids, you definitely won't be called out if you decide to install it in your own bedroom. It's just that good.