The Keys to Making a Gallery Wall Look Timeless (Not Trendy)
We independently select these products—if you buy from one of our links, we may earn a commission. All prices were accurate at the time of publishing.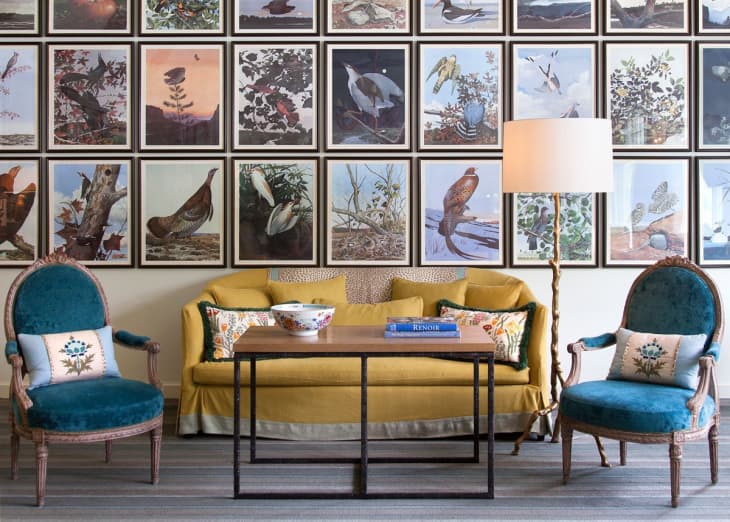 Gallery walls have been going strong for a while now in home design. That's probably because they're the perfect solution for filling up blank wall space—until, well, they're not. If we are being honest, gallery walls are actually pretty difficult to pull off. Sure, it's your home and ultimately anything goes. But haven't we all seen a gallery wall or two that's awkward, either in terms of the spacing or placement of pieces, frame selection, or heck, even the amount (and style) of items?
A gallery wall should really always be a work in progress—something that continues to grow until it reaches the state of being potentially wall-to-wall, ceiling-to-floor salon style for maximum impact. A small cluster of random artwork on a wall feels too try-hard, right? But I guess you've got to start somewhere and acquire works that mean something to you over time. So as you go about that process, let's take a look at some fully "mature" salon walls that get it right and figure out why. That way, you'll have some guidance and inspo for your own project.
"Go big or go home" is maybe one of the most annoying phrases that the recent zeitgeist has given us. But when it comes to a gallery wall, this phrase really does ring true. A bunch of busy artwork on a big blank wall just looks awkward (though the above image may be somewhat of an exception to this rule). So for best results, try to follow the lead of Haven's Kitchen founder Alison Cayne, who not only went floor-to-ceiling on her dining area gallery wall, but also managed to fill it with super tasteful, substantially sized pieces. Nothing appears to be in a frame that's smaller than 11 by 14 inches, which is not to say that small artwork is never the answer. If you look closely, many of Cayne's pieces are quite small. But the framing and matting makes them look grand and that makes all the difference, especially on a full wall in a home with high ceilings. So when all else fails, buy big artwork or frame your pieces to make them look bigger.
If you're a newbie to this whole salon wall thing, a good rule of thumb to follow for a mature, balanced composition is to start with one large anchor image. It grounds the whole arrangement and provides a framework for building out the rest of your wall. In this example from Pottery Barn, it's definitely the huge square abstract picture with the maroon stroke of paint. There are a few other large works around it, because remember, your goal is to fill up the wall. But there is usually one thing that's bigger than the rest in good gallery walls, and best not to place it right smack in the middle of the wall. A little off-center is more interesting to the eye and therefore more visually pleasing. Your anchor image can also inspire the general color palette and mood of the rest of your scheme.
Curating pieces is another big part of the equation, and it shouldn't happen overnight. The best gallery walls showcase items from a variety of media—photographs, drawings, paintings, prints, and so on, like this one. Great if you can add something vintage to the mix as well. While it's ideal to collect over a longer period of time, it's okay to throw some temporary place holders into the mix. Or to change things up if some of your old go-tos are feeling stale. Another takeaway from this setup: it's totally fine to throw pictures up onto a patterned or colored backdrop. Though, unless you're a true maximalist, be sure the pieces are cohesive.
Come to think of it, a cohesive color palette is never not a good idea, even if you're keeping it simple with white walls that can handle a more colorful mix. That's exactly what designer Orlando Soria did here. The bulk of his items are black-and-white, but he threw some pops of pink, yellow, and blue in there for good measure. And some of the colors in his wall reference his accessories and furniture, which again, creates a visually pleasing path for the eye when viewing a room.
Similarly, another thing to keep in mind: A mature salon-style gallery wall doesn't exist in a vacuum. It's perfectly fine, and in fact, encouraged, to work pictures around the placement of your furniture and other items in your room. You can still do the floor-to-ceiling thing—just place things around your console, chair, fireplace, or whatever else may be along the wall in your space.
One of the best ways to keep a gallery wall evolving is by embracing a configuration with irregular borders, especially as you get things started. That way, you can continue adding on to the arrangement organically. Forget the concept of a grid (which can be done well, but always feels a little stuffy) and go rogue. The setup may cover a lot of blank wall, but there's definitely room to add around the edges both horizontally and vertically. Again, larger-sized pieces come in handy for making this configuration work as is, but you could totally add in some smaller guys as you like.
And lastly, a salon wall doesn't have to be all framed art. 3D objects, particularly mirrors, are totally fair game. They add dimension to what's usually a pretty flat setup and can even be functional, in the case of a mirror, which will throw extra light around a darker space. Just work an object into the wall as you would any other picture, but again, remember size matters and try not to go to small with your item. Otherwise it might seem silly.
Now that you've been sufficiently inspired, we have all sorts of practical tips on hanging—like mocking up your layout on the floor before hanging or mapping it out on wall with kraft paper templates.