This Is the Easiest Way to Avoid Overwatering Plants, According to the Royal Horticultural Society
We
independently
select these products—if you buy from one of our links, we may earn a commission. All prices were accurate at the time of publishing.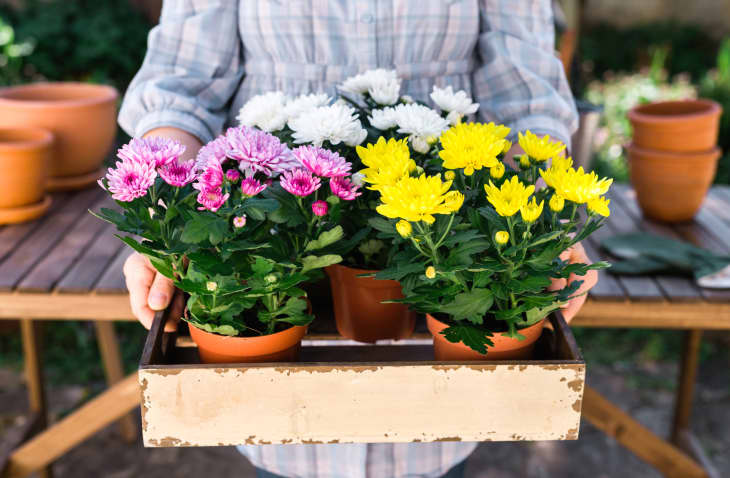 Just like many other events (like our Small/Cool Experience!), the Royal Horticulture Society made their annual Chelsea Garden Show virtual for the first time in 107 years. While it's not over, horticulturalist experts have already shared an abundance of tips on how to successfully grow your own plants—including a clever way on how to avoid overwatering it.
Each day's lineup is available for viewing on the RHS website, and Thursday was filled with helpful tips on how to grow your own vegetables and flowers. A panel answering audience questions about gardening took place between four of the RHS Gardening Advisors, during which horticulturist Lenka Cooke provided a simple solution to figuring out whether or not your plant is overwatered: by regularly feeling its weight.
"One thing is touching the compost and the other thing is picking it up, and the weight of the compost over time…you get the knack of it," Cooke said during the video panel. She explained that that's how she can tell if her plant needs more water, or if she might have already overdone it and not add anymore.
In addition to this simple yet helpful watering tip, the panel also provided advice on how to start your own garden today. See below for the answers to questions that might help you during your own gardening quest:
1. What fruits or vegetables are best to start with?
There's no one answer for this, but the most commonly suggested option from the panel was strawberries. The fruit seeds are quick to come to cropping and can be grown in the ground or containers. Other suggestions include raspberries, potatoes, and tomatoes.
2. Do I need to rotate my crops?
According to RHS Gardening Advisor Nicola Barker, it's important to longterm crop health, so the answer here is yes. "Planning is key, and the main purpose is to build up against pesticide disease and maintain your soil's healthy and fertility."
3. What's the best perennial vegetable for a community garden?
Cooke mentioned that her favorite is asparagus. Despite you needing to wait a couple of years to get the beds established and start cropping, the cutting of asparagus can last up to two decades.
RHS Gardening Advisor Jon Wheatley suggested stemmed rhubarb, which he loves, and chives. "[They're] absolutely fantastic, with boiled eggs in a sandwich…you can't beat chives. They'll last a long, long time in a garden."
4. Which flowers are best to grow and cut for arrangements?
Wheatley, who grew up surrounded by the art of flower arranging, suggested autumn larkspur, clarkia, delphiniums, and the "cut and bloom again" dahlia. Lanka's first recommendation was tulips, which you can propagate with the bulbs that it produces. And if you're interested in adding some foliage into your arrangement, she suggested growing eucalyptus.