This Company Will Pay You $1,000 to Watch "Friends" for 25 Hours
We independently select these products—if you buy from one of our links, we may earn a commission. All prices were accurate at the time of publishing.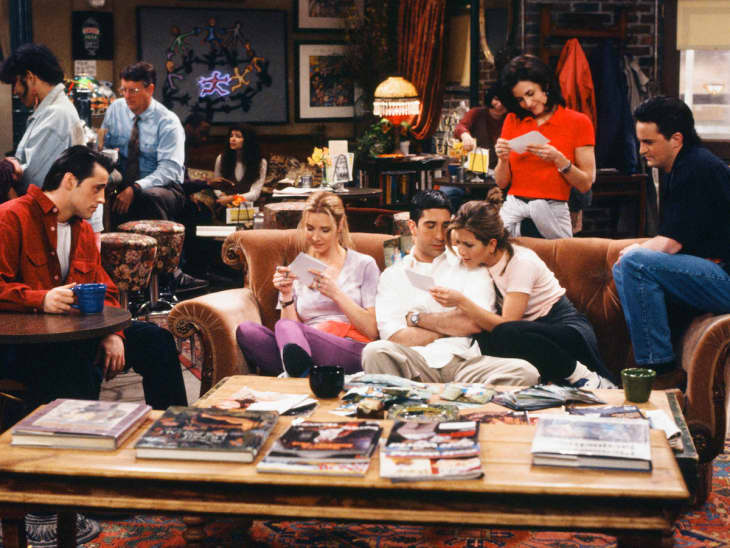 Follow Topics for more like this
Follow for more stories like this
To celebrate 25 years of "Friends," Frontier Communications wants to pay one lucky superfan $1,000 to watch 25 hours of the show. Considering that watching hours and hours of "Friends" is basically how every fan spends their free time anyway, it sounds like a pretty perfect deal. But don't worry, you won't have to do it all in one sitting. And there will be a little bit of work involved, but to the right person, it probably won't feel like work at all.
"This job is for any self-proclaimed die-hard Friends superfan looking to prove their salt," Frontier Communications writes in a press release. "We're in search of the ones who know the quotes ('PIVOT!!'), the hilarious scenarios (the beef in the trifle; the Holiday Armadillo), and all the little details (exactly how many sisters does Joey have? What is Chandler's job?) that make the show the tried and true classic it is."
Here's how it works: If selected, you'll need to watch 25 hours of "Friends" (about 60 episodes) before September 22 (the official 25th anniversary of the pilot airing on NBC). While you watch, you'll be required to live-tweet the experience. Then, when your 25 hours are complete, you'll need to tweet a picture of yourself celebrating with your own group of friends.
If you successfully complete all of the above, you'll receive a check for $1,000 and a "Friends" gift bag including a "Friends" T-shirt, a Central Perk mug, popcorn, treats, and a 12-month Netflix subscription. If you already have Netflix, you'll get a Visa gift card valued at the cost of a year-long subscription.
Sound like your dream job? Apply here by 11:59 p.m. on September 3 for a chance to be selected. You'll need to share who your favorite "Friends" character is and answer an age-old question in 100 words or less: Who do you think was right about The Break—Ross or Rachel—and why? You can also submit a video with your submission, but it isn't required.
Even if you don't win, watching 25 hours of "Friends" sounds like the perfect fall activity. If you need us, we'll be curating the list of our top 60 favorite episodes.