Get Ready for Stranger Things Season Two: Here's What You Need to Remember from Season One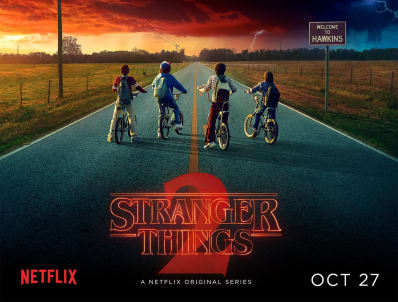 (Image credit: Netflix)
While everyone on the planet consumed Stranger Things last summer as a cohesive unit obsessed with walkie talkies and Christmas lights, I am somehow a person who didn't watch one second of the blockbuster hit until this week! Now that I too am obsessed with this 80s-centric sci-fi/horror thriller of a show, I finally feel like I am caught up on 2016 television – just in time for season two to hit the internet tomorrow. [Spoilers for season one, as well as slight spoilers for season two, based on Netflix's trailers.]
If you haven't spent a ton of time thinking about Hawkins, Indiana since 15 months ago, you may need a refresher on the show before season two kicks off. From someone who just lived through season one's spectacular eight episodes (but cares less about monsters and more about who's going to hook up with who), here's what you need to remember from last summer, and what will hopefully be answered in season two.
Who's Sheriff Hopper working with? It looked super shade when we saw him getting into the back of a dark-windowed car at the end of season one. And yet, that's not the last we see of him: Instead, we leave off with him dropping some delicious frozen waffles off in the woods, along with a very 80s-style Tupperware container full of Christmas cookies. WHO DO WE KNOW WHO LOVES EGGOS?
Eleven, of course! What has become of America's favorite head-shaven wizard/resident badass? At the end of season one, she bravely defeated the Demogorgon with her MIND, but she appeared to have been destroyed in the process. However, a kid who looks a lot like Eleven, but with hair, shows up in season two trailers. I'm not mad about seeing the best character in this show again!
Will Joyce and Hopper ever get together as they are so clearly meant to be? If trailers are any indication, my Magic 8 Ball suggests that the outlook's not so good. Joyce appears to have a new boyfriend and all I can say is, that dude better be A+ at monster chasing and axe wielding. Otherwise, I'm out.
In other news of Stranger Things couples I inexplicably ship, will Nancy realize that Steve is a dirt bag and ditch him for Boo Radley, aka, Jonathan Byers? I know Steve tried to make things right at the end of season one and replaced Jonathan's broken camera or whatever, but while I forgive, I NEVER FORGET. Never destroy a nerd's camera.
What of our dear, sweet Barb? Season two takes place nine months after the original season, in October 1984, and the lack of Barb in the new trailers indicates that she is, uhhh, probably still dead. If they don't at least make mention of her, all of Twitter is going to collectively flip a board game table. #JusticeForBarb
Tune into Netflix tomorrow, October 27 to see what happens with our favorite kids, teens, and adults in Hawkins.