Get the Chip It! Button: Turn Your Inspiration Photos into a Paint Palette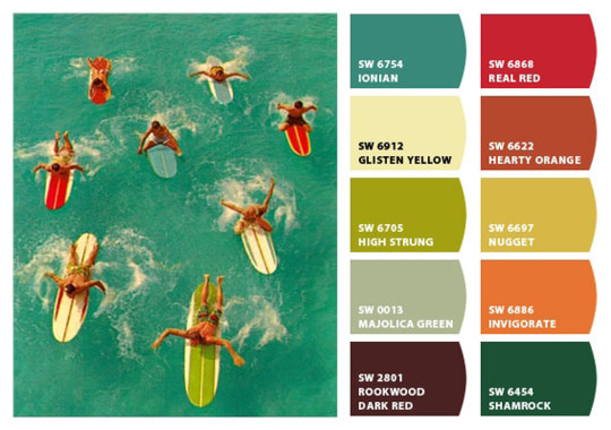 Inspiration can strike in unusual places, can't it? Hunting for your perfect moody blue for a bedroom? What if you find it in a dusky sky, or a friend's photo of her trip to Paris? That's why our friends at Sherwin-Williams have just introduced Chip It!, a new tool that lets you turn any image into a perfect palette, pulled from more than 1,500 Sherwin-Williams paint colors!



For easy chipping, install a Chip It! button by dragging this button to your bookmarks bar:



When you see a photo online with colors you like — on any website or photo-sharing site, like Pinterest, Facebook, Picasa, etc. — click your new Chip It! button and watch the matching magic happen! Then you can save it for later, in your own Chip It! albums, on Pinterest or Facebook, or on your desktop. So now you can use the colors that inspire you while surfing the Internet to help make paint color selection easier — in your bedroom, bathroom, kitchen or any room in between. You can also upload photos directly to Chip It!, so your own favorite snapshots can become color inspiration, as well.

Find out how Chip It! works with this short video:
Vacation Chip It! Challenge
Now that you know how to Chip It!, get your vacation photos ready — this summer, we're teaming up with Sherwin-Williams to bring you the Pinterest Chip It! Challenge, where you can submit and vote for your favorite vacation photo palettes. We'll start accepting submissions in mid-June, so start snapping and uploading those gorgeous vacation photos, and then you can Chip them with your new Chip It! button and get them ready to submit!

(We used the Chip It! tool on some favorite images: 1 Surfposters1.com; 2 & 3 Maxwell's Five Days in Mustique, West Indies; 4 & 5 Roostblog.com; 6 DIY Outdoor Pop-Up Party Spaces for Memorial Day Weekend; 7 Vacation Inspiration: Parisian Blues.