Gifting Ideas For Every Spring Occasion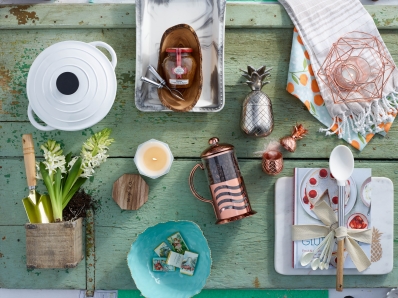 Coming out of hibernation and hopping into spring means plenty of opportunities for thoughtful gift-giving: Mother's Day, graduation, bridal showers and warm weather garden parties are all on the horizon. Here are some fresh ideas on what to bring to your next spring soirée, inspired by scenes tagged #MyHomeSense.
Gifts For Mom
Chalkboard Wine Glasses: A great alternative to wine charms, dipping the base of wine glasses in chalkboard paint lets guests personalize glasses at any party. Just pick up a set of wine glasses at HomeSense and head to your local craft store for a small container of chalkboard paint. Dip the base of each glass into the paint, just up to the bottom of the stem, and let dry on a flat surface covered with wax paper. Deliver to your favorite Mom with a pack of chalk and Mother's Day brunch guests will be able to write their name on the base of their glass to keep track.
Homemade Sugar Scrub: Simplest. Gift. Ever. A homemade sugar scrub can be used all over to exfoliate and moisturize. The recipe is simple: use a 1:2 ratio of granulated sugar mixed with coconut oil (e.g. 1/4 cup sugar + 1/2 cup coconut oil) and add a few drops of your favorite essential oil. HomeSense always has a great selection of glass jars that can be used to perfectly package the scrub. Olive oils, scented candles, and loofahs are great add-ons from HomeSense to make the perfect spa gift basket.
Gifts For Brides
Framed Photos: An affordable but thoughtful hostess gift for bridal showers, pick up a variety of frames at HomeSense and take note of the sizes you bought. Present them to the bride along with a note letting her know you'll be taking pictures throughout the day and sending printed copies to fill the frames after the shower. After the event, print photos according to the frame sizes and mail them to the bride.
Wedding Cake Server Set: Purchase a beautiful cake serving set and bring it to a local engraving shop to have it personalized with the couple's names and the date of the wedding. They'll be able to use it on the big day and it will also be a memorable keepsake for years to come.
Gifts Just Because
Spring Blossoms: HomeSense always has a unique selection of plant pots and vessels in stock. Find one you like and present it to your host filled with blooming bulbs like tulips or hyacinths. Including a pretty garden spade or set of gloves would be the perfect final touch.
Cheese Platter: Attending a spring dinner or garden party? Head to your favorite cheesemonger and pick up a selection of cheeses—one soft, one semi-soft, and one aged or hard. Present them to your host on a new cutting board, accompanied by a small set of cheese knives that you can pick up at HomeSense.
Visit HomeSense to stock up on supplies for these gift ideas and more this spring!