A Gilmore Girls Fan & A Newbie Watch The First Episode of A Year in the Life & Here's What They Thought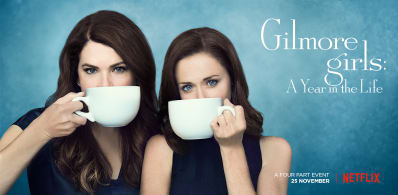 (Image credit: Netflix)
It's no secret that Apartment Therapy Media loves The Gilmore Girls. After much anticipation and much coffee, Adrienne Breaux (House Tours Editor, Gilmore Girls fan) and I (Editorial Coordinator, GG virgin) sat down together (via the internet) to watch episode one and see what gifts Netflix hath bestowed upon us.
First thing's first: how would you describe your level of Gilmore Girls fandom?
Adrienne: It's always during the holidays that I feel a mixed bag of longing and emotion. (So unique of me, right?) A loner at heart, I often forego group friendsgiving and crowded family gatherings for solo days enjoying my own company.
And while I always spend content days eating packaged food (that I publicly swear I don't consume) and watching Netflix, I do always regret not putting more effort into building a community of self-made family members. Because, isn't that what we all yearn for on the inside? A cadre of people that love us despite our massive character flaws? Folks that know weird things about us and manage to mostly keep the secrets to themselves? Gilmore Girls perfectly encapsulates all these complex community feelings for me. Stars Hollow has always represented that ideal, idyllic small town community I'm not quite sure exists anymore (or ever did?). I didn't watch the series religiously when it originally aired, more piecemeal. But thanks to Netflix and a break-up, I did rewatch the series in its entirety about two years ago (three times through).
My level of Gilmore Girls fandom: Can remember most large plot points and character names, don't always spell everything correctly, cry a lot because of the emotional nostalgia of watching your dream life played out on screen.
Nora
: I've
never
seen it! My go-to TV tastes fall more towards emotionally-withdrawn-detective-with-messy-personal-life-solves-crimes-in-the-rain or beautiful black people doing anything, and this show always felt like the exact opposite of both of those things. It's a total cultural blindspot on my end, but it has a reputation of being clever and delightful. Also people I love love it so I'm hoping this lets me see what all the fuss is about without the commitment of watching 7 seasons of TV.
Rapid fire thoughts on the rapid fire banter:
→ Starting things off with an audio-montage
AB: I'm not sure I'm loving this weird overlay of audio memories that feels like I'm coming to from a years' long coma.
NT: This is great for me, catching up on seven seasons
→ This is what it's all about, isn't it?
NT: I'm already charmed, there's a gazebo
AB: No one ages and life is perfect. This town HAS been built in a snow globe
→ Him?
AB: Okay Paul ain't gonna last, I can tell that right now
NT: Paul is new?
AB: I've never seen Paul a day in my life
NT: hhahaha no one has, so he's like Anne from Arrested Development A mayonegg
AB: I WAS ABOUT TO SAY THE SAME THING. "her??!"
NT: Poor Paul
→ So is Paris going to get a spinoff or...
AB: IT'S PARIS. She was Rory's frenemy for a long time, she's fierce and unapologetic
NT: And she's playing the same person she does on how to get away with murder
AB: I'm confident she wakes up at 5 in the morning for spinning class every day
NT: 100% and answers emails till 1am AB: She only needs 3 hours of sleep, she's completely fully rested
→ An abridged list of everything we said about Luke:
Does he wear the same outfit everyday?
"I annoy him and he builds cabinets", actual relationship goals
LUKE FIXES THINGS WHEN HE CAN'T FIX PAIN
Is Luke the show's rugged moral compass?
He's definitely the backbone that isn't appreciated until it's a little too late
Parting thoughts as we toss on our chic coats and grab our coffee to go:
Adrienne: Despite the kind of unappealing marketing campaign (Netflix what was up with that), I loved the first episode as much as I thought I would: a huge f*#$-ton. It fell into witty banter stride immediately. Everyone you thought would be back was back. All the characters felt exactly like themselves, only a little older. (Not that anyone LOOKED older, of course). Little elements of the modern world (Luke's wifi password bit was just perfect) creeped in, in just the right amount so that you knew we were looking at the future (because again, if you thought just seeing older actors would be enough to let you know, you would be out of luck. If not for the cell phones I could tell you this was a lost episode and you would believe me.) I laughed, I cried. There were a few moments that were a little too cute but I loved them anyway, the same way Luke loves Lorelei despite the fact that she still eats like a 12 year old and doesn't pick up after herself. I cringed and I squealed. I felt delighted to catch up. And as the last few moments of the episode came to a close, a heavy dread settled down upon me: four episodes is not going to be enough.
Nora: I'm convinced. Once I fell into the rhythm of the show I was completely charmed. The first episode stands on its own, so that even the uninitiated should feel free to dive right in. It throws pop culture references at you at a breakneck speed and manages to be aware of itself without being too *winky* about it. I don't know how I've lived this long without gazing upon Lorelai's kitchen but it is a masterpiece. Also Luke was apparently way ahead on the open shelving trend and Grandma Gilmore's glassware is to die for. It is full of covetable outerwear, charming small town storefronts and some serious novelty sweater action. The show felt like comfort food and was the perfect post Thanksgiving lazy morning treat. I strongly suggest eating a big slice of leftover cake and hoping that you inherit Rory's metabolism speed by osmosis.
Did you watch it? What did you think?