There Might Be More Gilmore Girls Episodes, But Not on Netflix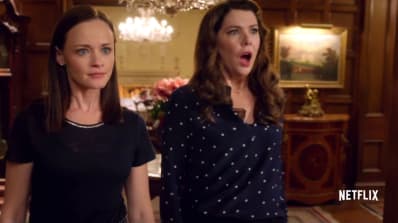 (Image credit: Netflix)
Gilmore Girls fans, don't give up hope. There could still be more episodes coming—just not on Netflix.
After the teen drama's return to Netflix for four episodes last fall, it's been speculated whether there would be more to come, with it first seeming quite possible, although preliminary, and then less so after stars Lauren Graham and Alexis Bledel spoke on a panel in April.
Then, the show's creator Amy Sherman-Palladino signed a multiyear deal with Amazon earlier back in September, after the retailer's content arm picked up her new series, The Marvelous Mrs. Maisel, for two seasons. This has effectively killed any chance of Netflix producing additional episodes for the time being. But Sherman-Palladino says that Amazon is open.
The show runner recently told RadioTimes some hopeful news for Gilmore fans:
We carved out a little niche for ourselves with Amazon saying that if we ever want to do it, if the girls and us get together and we have a concept that works, then we have the freedom to do it... So it would just have to be the right circumstances, and that we're all sort of in the same drunken mood together to go repaint Stars Hollow again. Because we had to repaint Stars Hollow, and we'll have to repaint it again. But it's definitely possible.
That sounds pretty promising to us. In the meantime, The Marvelous Mrs. Maisel premieres on Amazon on November 29.
h/t InStyle