A Gift for You: 25% off at Pure Home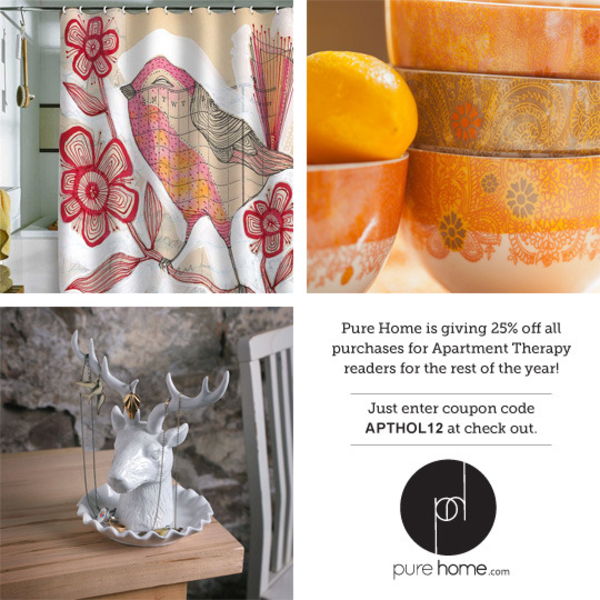 Even if you think you're finished with holiday gifting, don't forget the most important person on your list: you! Pure Home is now offering an exclusive 25% off code to Apartment Therapy readers through the end of the year, perfect for that special "someone" in your life!
Use code APTHOL12 at checkout to get 25% off select brands!
You've shopped for others, now shop for you! With self-gifting in mind, Pure Home is offering 25% off selected brands through the end of the year. Enter coupon code APTHOL12 at checkout to receive the discount on furniture, home accessories, decor, and more!
Take 25% off select brands from 12/10/12 through 11:59 p.m. on 12/31/12. Enter discount code APTHOL12 at checkout.
The following brands are not eligible: Aimee Wilder, Anji Mountain, Archival Décor, Dana Gibson, Davis Art, Dermond Peterson, emma at home, Great Blue Heron, in2green, Mio Culture, Moss Studios, NOVA, Elizabeth Jane Art Collection, Rotsen Furniture, Shine Labs, Sugarboo Designs, Z-Lite, Zachary A. Design, Liza Phillips, Zuo Modern.
Images: Pure Home