Go Down the Rabbit Hole: 10 Vintage Newspaper & Magazine Ads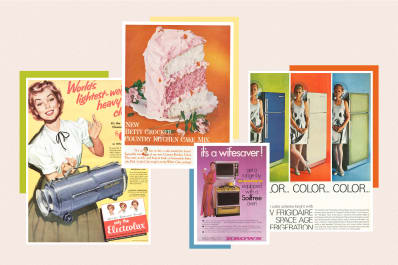 I love a good print ad. Maybe it's my magazine background shining through, but it's difficult for me to see the interplay of typeface and imagery on paper as anything but artful, even though I know I'm being marketed to. Sorry if that makes me complicit, Marshall McLuhan! But I prefer to think of myself as just a geek for fonts, puns, pictures and products, especially when they're clever. And while advertising has definitely gotten slicker over the years—and clearly colonized other platforms, it's amazing how different and yet somewhat similar old ads are to the ones today. So let's get lost in a few vintage home ads to see just how much (or little) things have changed.
I've never met a pun that I didn't like, and this 1954 Hamilton Beach ad from Attic Paper doesn't disappoint with the "beats everything" language it uses to describe the brand's mixers and blenders. The retro Santa icon tells us that it's a holiday ad, but I think the most striking thing is how much product copy there is. The ad feels very cataloguey in that way. Far too much for my liking, but this is how it used to be done when people actually had attention spans.
Unclear to me what refrigeration has to do with the Space Age, but I love the color combos and Fembot-looking galaxy girls in this Frigidaire ad found on Advertising is Good for You. Judging from the palette and language, I'd say it's late '60s or so. And while I don't think there's much interest in super-colorful appliances now (beyond a Blue Star range or the Big Chill and Smeg retro-style fridges), the ad copy still rings true: The kitchen is still the "livingest" room of the house, so it should be the liveliest. Sure. I can get behind that. We're just bringing in color with tile, cabinets and rugs these days instead.
Clearly pretty faces have always been a tactic utilized to sell stuff, which is what we're seeing in this 1950s Electrolux vacuum ad featured on Magazine Advertisements. Not sure if I've ever been so happy as that lady looks to vacuum myself but to each their own. Looking back, ads like these are sort of problematic in so far as they really hit the "women should be home and cleaning and cooking" angle hard, but those were the prevailing gender roles then. So they're definitely a product of their time and place.
That last one seemed harmless compared to this 1973 Brown range ad from The Saturday Evening Post (via Retrospace). Guess I have met a pun that I don't like—wifesaver. Little too sexist for my liking, but again society was different then.
Here, Thermador doubled down by comparing a combo microwave/oven/hot food server appliance trio to cleavage. Only question is whether the ad—found on Vintage Ads—premise is creepier than the Hitchcockian man Thermador cast to do the gratuitous gazing.
Am I the only person who has no idea what a mobile trash burner is? I mean, obviously it's a gadget for burning trash, but is this something we're still doing? And if this crazy cylindrical cone metallic thing in this Montamower ad via Vintage Ad Browser is better than "unsightly old-fashioned trash burners" of yesteryears, what in the world did those look like? Why not just compost?
Food ads weren't exactly Instagram-ready tableaux back in the day, but leave it to Betty Crocker to understand just how convincing a cross section of a huge chunk of cake can be. This slice of azalea cake ad (which was sold on Etsy, find others like it here) is pretty darn close to millennial pink, and it's got to be a precursor of all those rainbow cakes that took over Pinterest a few years ago and have yet to go away. Well done, Betty!
As for utensils, well, this 1964 Reed & Barton ad (another one from Vintage Ad Browser) is just awkward. Shrimp are generally a finger food, so I'm not sure why that's been chosen for this fake couple's weird feeding each other moment. The whole thing doesn't make me want to register for expensive silverware, I'll tell you that.
Not sure what's supposed to be so appealing about this dude showing up at your home with carpet swatches? But I guess back in 1969, wall-to-wall was having a moment, and you can't argue with convenience. (And in case you'd love to add this particular ad to your art collection, you can scoop it up on eBay for just under $10.)
And lastly, I'mnot hating this 1986 KitchenAid mixer ad from Magazine Advertisements. It's nice to see all the attachment options lined up, and while the meat grinding and sausage making styles aren't my bag, the breadth of things you can do with a mixer is impressive when you see them all lined up, grid-style. The Nike font in a kitchen gadget ad is a little strange, but I think overall it works despite looking a little bit dated.
So now that we've gone down the rabbit hole together, what's your favorite old ad? Or do you think they're all just ridiculous?
Apartment Therapy supports our readers with carefully chosen product recommendations to improve life at home. You support us through our independently chosen links, many of which earn us a commission.