Good Questions: A Budget Small Sofa for this Space?
Hello AT. I can't decide on a sofa. I'm serious.
The wall that I have shown is 92″ wide and the end table is 18″ wide, so it needs to be a small sofa.

Note: Include pix and your question gets posted first.

Email us with QUESTIONS in subject line: sf(at)apartmenttherapy(dot)com
About the sofas that I am considering: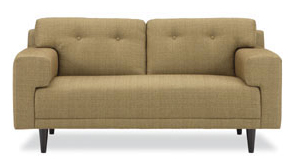 Byrd loveseat from EQ3 in Jack Tan- It is $649 but $749 in the Jack Tan fabric. I also would want the matching ottoman for $300. This was my first choice but now I am not sure. I also don't really want to spend that much.
Ultra Swivel lounger double in Khaki from Walmart.com. $349.86. Who thought Walmart would have such a cool sofa. I hate the upholstery on pillows and I am afraid it will look really cheap.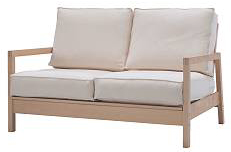 Lillberg sofa from Ikea $151. There isn't a matching ottoman but it is a great price and not that bad. Thanks, Christy
Of the three, we actually prefer Lillberg, low price notwithstanding. Four reasons:
1. The off-the-floor frame design and light feel of Lillberg work well in small spaces and fit nicely with your almost floor-to-ceiling windows and your M-C-M side table.
2. It is extremely simple to create your own slip covers for cushions of this shape, and this will allow you to personalize– and spruce up– this very simple piece with a more high-end fabric.
3. The lack of matching ottoman is a creative opportunity. Again, the design of this loveseat is so basic you will be able to mix and match it with many types of stools or ottmans. Take advantage of the opportunity to incorporate some extra storage, or perhaps an interesting accent piece like a tall, Morrocan style pouf.
4. Later on when you can have place with a deck or garden, your sturdy Lillberg loveseat can become the basis of a comfortable outdoor living space.
Published: Apr 27, 2007