Good Questions: Tips for Tiny Boudoir?

I just moved into a tiny (440 sq/ft) studio that includes a huge 8'x9′ "closet." After doing some measuring, I decided to move my queen size bed (approximately 5.5'x7′) into the "closet." Voila! A junior one bedroom!
Here is my question: what can I do to make the space appear larger and less closet-like?…
(Note: Include a pic of your problem and your question gets posted first.

Email questions and pics with QUESTIONS in subject line to:

editor(at)apartmenttherapy(dot)com)
The room is obviously tiny. One wall contains a bar & 2 shelves, which I am using as my closet. The headboard of the bed backs up against this closet wall & leaves a few inches in between it & my hanging clothes. The footboard has a few inches between it & the wall, but luckily, it & the wall currently at the side of my bed are slightly recessed. When entering the room, there are about 2 feet of open space before you hit the bed – I've also got a hamper in there right now. Also, I have an overhead light & an outlet on the entry wall of the room.
Couple of other things: I do not want to get rid of my bed and the unit is a rental.
My current plan for the room is hang white curtains in behind my headboard & to hang Chinese lanterns for some soft, budoir-like light.
Other suggestions? Thanks! Holly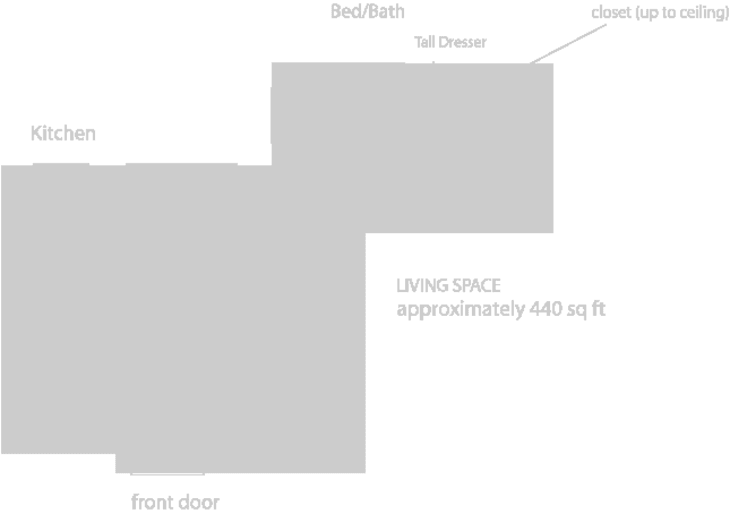 We like what you've done so far. Here's our starter tips:
1. Paint the walls of your room a soft, off white boudoirish color (we like Benjamin Moore dreamy cloud) so that your new white curtains really pop.
2. kill the ceiling light and hang your two pendants on either side of the bed
3. place your pillows against the wall to make it seem more like a daybed during the daytime.
4. hang a colorful curtain in the doorway, which you then have permanently pulled back with a holdback
5. add little shots of color in the pillows or with a small rug to put your feet on when you get off the bed in the winter and don't want to touch the cold floor.
Published: Aug 1, 2006