Good Sources for Finding Vintage Toys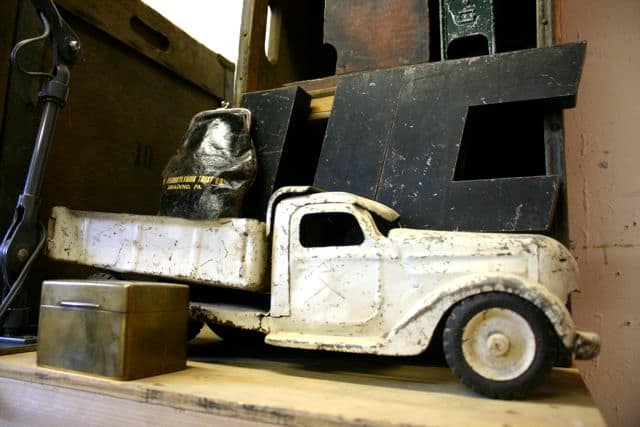 In search of unique gifts for kids? Consider going vintage. Not only is it a green way to buy, but with dealers becoming more web-savy, finding vintage online has never been easier. Gift a little one with a cool, one-of-a-kind vintage toy and it may just end up being something they'll want to hold onto throughout life.
Dorset Finds
This specialty dealer in Brooklyn, NY stocks a tailored selection of unique vintage items. Amongst the nice collection of reclaimed furniture and lighting you will find fun trinkets and toys, like beat-up toy trucks and toy soldiers.
Three Potato Four
In addition to housewares and decor, this online store stocks vintage furniture and toys for kids, all of it selected by the discerning eye of owners Janet Morales and Stu Eli.
Tin Toy Arcade
If you've got a kid who's into robots, planes, cars, circus animals, or spacemen you'll definitely want to check out Tin Toy Arcade. Based out of Georgia, this online shop carries classic wind-up and tin toys, along with some new lines, including Ugly Dolls.
Alphaville
Alphaville is a unique little shop populated by toys and movie posters from the '40s, '50s, '60s and '70s. It stands as a paean to an era long before video games, splatter films and throwaway-ism. Shown: An item from their extensive selection of Space Toys.
Vermont Country Store
All of the toys and stuff you remember your parents using when you were a child, products that seemed to mysteriously disappear by the time you were a teenager, are to be found at this online shop.
Etsy
Over just 5 years, it's managed to become one of the largest online retailers of vintage goods, including toys. With thousands of toy sellers, there's a good chance you can find what you're looking for.
Uncle Fun
Stuffed to the ceiling with kitschy toys, posters, games, and books, this Chicago store is exactly where to go when you're looking for hula hoops, Wooly Willies, or vintage bobble-head dolls. Their inventory is ever-changing, and it's not posted online — you have to shop in person.
ROMP
Based out of New York, this online shop has a mix of new, vintage, and vintage-style toys. Everything is beautiful and well crafted, and you might even find something for yourself while shopping for a kid.
Mahar Drygoods
This shop describes itself as an "online emporium of vintage and artisan crafted curiosities for children." Toys are classic and well made — expect to find wooden toys and distinctive stuffed animals.
Image: Mat Sanders