Granada Tiles: Intelligentsia's Finest Fez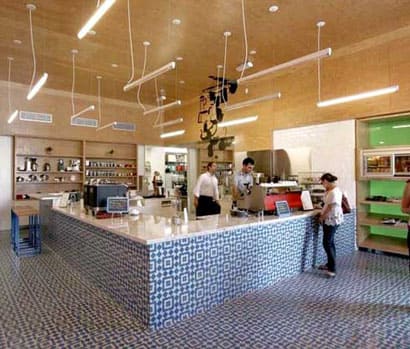 I first saw these arresting blue and white tiles when heading out for coffee with Gregory in Silverlake last June (that's his feet and sandals below). It was the Intelligentsia coffee shop and it was True Blue (aka Andree) who actually found the source (though I didn't know it at the time) in the comments. The space was designed by Barbara Bestor, but it was the tile that made the biggest impact. I thought it was Moroccan...
These blue and white beauts are called Fez and come from a Los Angeles based company, Granada Tiles, that makes all their tile in Nicaragua with an extremely environmental approach. The tiles come in blue and white, black and white, as well as blue, green and white. What is particularly interesting about them is the sharpness of their design and the way in which they are made:
The Echo collection revitalizes an art form that developed in France in the mid-1800's.... Unlike ceramic tiles, which are usually glazed and fired, decorative cement tiles are made by first pouring a mixture of cement and color pigment into separate compartments in a metal mold (a sort of oversized cookie cutter). This first color layer is 1/8" thick. Next we add concrete and press the tile under 3,000 pounds of pressure per square inch.
If you are thinking about tile or using tile in any part of your home, I recommend bookmarking Granada as a possible resource. Checkout the links:
>> TileVault: Blue & White Tile
>> Granada Tiles (scroll to page 21 for Fez)
>> Barbara Bestor
>> Intelligentsia Coffee