Great Jones Just Released Its Famous Dutch Ovens (Plus an Embroidered Apron) in a Limited-Edition Collaboration With Lisa Says Gah
We independently select these products—if you buy from one of our links, we may earn a commission. All prices were accurate at the time of publishing.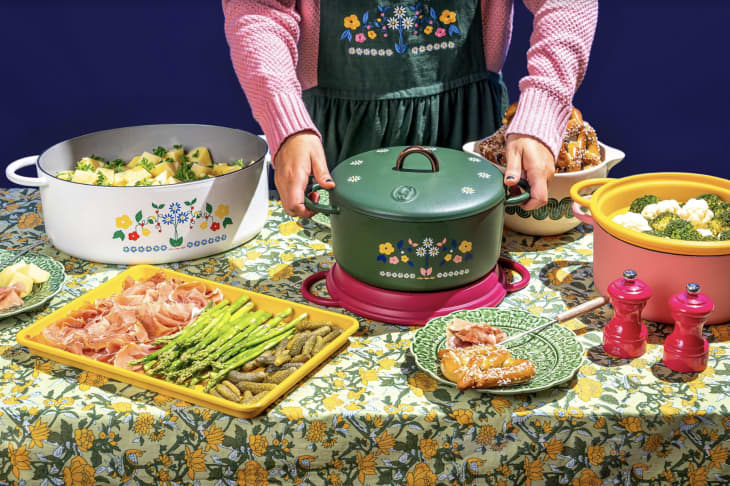 Great Jones is no stranger to colorful cookware. Even in their collaborations, this editor-loved brand never fails to impress with eye-catching decals and joyful product offerings. It only makes sense, then, that the company behind one of our favorite Dutch ovens would partner with equally eye-popping fashion brand Lisa Says Gah. This holiday season, the two have released a three-item kitchen collection (available starting today!) featuring some of Great Jones' greatest hits adorned with 1960s-inspired designs. But, don't let the products' retro alpine aesthetic fool you — each modern piece is highly functional and ready to assist you through the high volume of winter cooking that lies ahead. You won't want to delay, either, as the launch is bound to sell out quickly. Get one or more of the items for yourself or as an upcoming gift for the loved one in your life who dazzles in the kitchen. Read on to see each piece in the lineup.
Lisa said minimalism is dead with this ornate Dutchess oven. It's practically a collector's item with its hand-printed floral illustration and matching lid details. The 6.75 quart pot is made of enameled cast iron, allowing you to cook a wide array of dishes both in the oven and on the stove. When your cook time is over, simply grip the two large side handles, pull out the pot, and delight in delicious, flavorful cuisine that's evenly heated all around.
Much like the Dutchess, the Dutch Baby will look just as good on your table as it will on your stovetop. Available in a deep, bucolic green, this piece sports a nearly identical floral print as its parent pot and is similarly great for making anything from stews to pasta dishes. When the Dutchess proves too roomy for a single-person meal — or you simply don't feel like washing such a big pot after dinner — grab the baby version for quicker cleanups.
You'll look every bit the professional chef and fashionista in this super-cute apron, which is available in the same colors as the Dutch ovens. It, too, sports the same quaint floral imagery as the other items in this launch, only this time, it's embroidered. The apron's size is also completely adjustable — just tighten or loosen the waist to your liking — and it has two sizable pockets for your towels, thermometers, phone, and other kitchen essentials. Most importantly, your spiffy holiday fit will stay protected against splatters and stains!