Great News: Every Season of Will & Grace Is On Hulu Right Now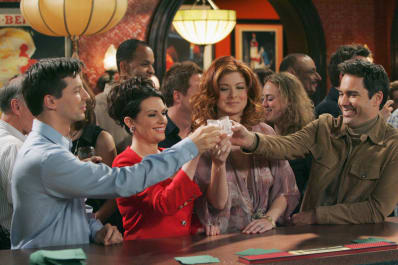 (Image credit: NBC)
Will & Grace fans no doubt have next Thursday, September 28 marked in their calendars as the return of the beloved sitcom for a brand new season. Well, we have extra good news, because you can catch up on the original series right now on Hulu.
That's right, all original eight seasons are available to stream right now on the service. This is the first time all seasons of the groundbreaking show have been available on streaming video.
But it's not just a deal for the original series. Cable cutters can rejoice because Hulu will also have streaming rights to the new episodes, which will be available on the platform the day after they broadcast on NBC.
If you're feeling ambitious, you can (technically) watch them all before Thursday's premiere; all 190 episodes will take four days and two hours (though that's with commercials and credits).
If not, here are some essential episodes to stream before the show returns:
Pilot (season 1, episode 1)
Go back to where it all started (and Karen's voice isn't high yet!).
The Unsinkable Mommy Adler (season 1, episode 13)
Does it get any better than the iconic Debbie Reynolds playing Grace's mom?
Das Boob (season 2, episode 3)
Close your eyes, and you can picture the moment of hilarious physical comedy when Grace's bra springs a leak.
(Image credit: NBC via Giphy)
Gypsies, Tramps and Weed (season 3, episode 7)
When Jack and Cher have a Cher off, you can't help but flip your hair along with them.
Lows in the Mid Eighties (season 3, episodes 8 & 9)
The season 3 Thanksgiving episodes gave us a totally rad 80s flashback to early days of Will and Grace's relationship.
A Chorus Lie (season 4, episode 15)
Matt Damon and Jack battle it out for the last spot in the Gay Mens Chorus (though Matt's character is not what he appears to be).