The Tub Scrub I Love Is on Sale for Black Friday — and It Comes with a Bunch of Other Must-Have Cleaning Products
We
independently
select these products—if you buy from one of our links, we may earn a commission. All prices were accurate at the time of publishing.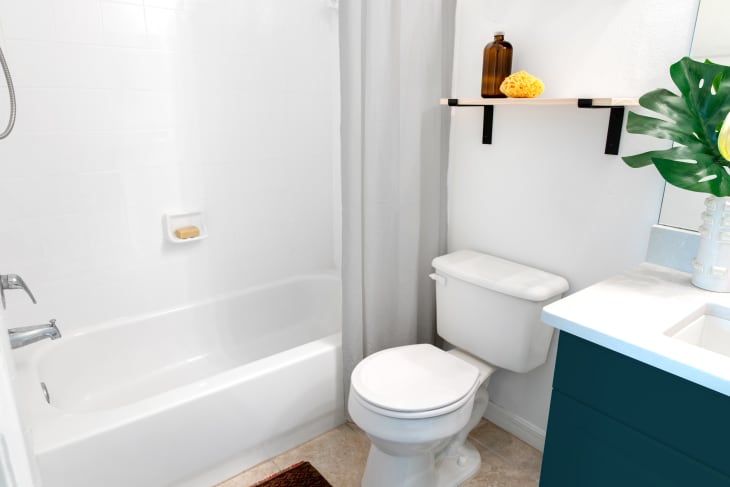 When it comes to cleaning, I've got a handful of brands that have quickly become my personal favorites. One of which is The Green Laundress, a black-woman-owned company that makes all-natural cleaning supplies with light fragrance and no harsh chemicals. I've been using The Tub Scrub and Multi-Purpose Spray for the better part of a year now, and they've become some of my go-to grabs for cleaning because they leave my bathroom and kitchen spotless and streak-free. Both and more can be found in the Healthy Holiday Home Kit, an affordable bundle that contains the best picks from The Green Laundress collection.
The Healthy Holiday Home Kit comes with The Green Laundress Tub Scrub, laundry soap, multi-purpose cleaning spray, and a reusable tote for easy transporting. While I've talked at length about how sparkling white my bathtub was after deep-cleaning it with The Green Laundress Tub Scrub, it worth noting how amazing the laundry detergent is, too! I was fortunate enough to receive a sample pack of lavender-scented soap, and couldn't believe how fresh and soft my clothes were after using it. I noticed it was also great for hand-washing garments, whether actually by hand or with a tool, such as the Breathing Mobile Washer or WonderWash. A 24-ounce bag of detergent comes in the Healthy Holiday Home Kit along with its own scoop.
I use The Green Laundress Multi-Purpose Spray in my kitchen regularly. As soon as it's time to shut things down for the night (I can't stand going to bed with dirty counters!), out comes the spray bottle. The cleaner is made with distilled water, castile soap, and essential oils; so it leaves surfaces with a pleasant scent as it clears all the grit and grime away from food and other spills.
For a well-rounded selection of home cleaning solutions by The Green Laundress, it doesn't get better than the Healthy Holiday Home Kit. Speaking as someone who's tried all of The Green Laundress cleaning supplies and has continued to use them, this set gives you the opportunity to try everything out and pick your favorites. The kit typically retails for $35, but for Black Friday, you can snag it for $38 and receive three additional bonus items! That's right: Healthy Holiday Home Kits will have double the items for only $38 on Black Friday! Trust me, it's a deal you don't want to miss. The Tub Scrub alone makes it all worth it, but everything else you get with it really sweetens the pot!

Buy: The Green Laundress Healthy Holiday Home Kit, $38 (normally $48)