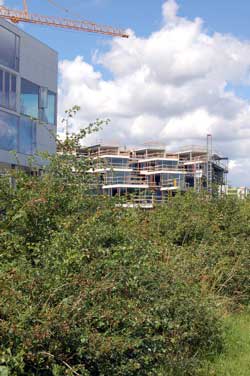 What if apartments came with yards?
At
We're thrilled to see more choices in urban living. People who want private outdoor space shouldn't have to drive to the suburbs. Quick-and-dirty Danish translations after the jump...
This L-shaped plan forms the basis for most of the units in the building; included in the gallery is one of the larger 2- or 3-bedroom plans and architects' renderings, along with pictures of the building under construction. And, yes, that's an artist's image of Mt. Everest that is to cover the sides of the parking garage, supergraphics style.
Units go up for sale in August. To be clear: these apartments are not meant for the masses. Prices are not yet available, but the building is in a pricey area of an expensive city.
Translations for a few Danish words that appear on the plans:
• entré = foyer
• bad = bathroom
• toliet = wc/powder room
• køkken = kitchen
• spiseafdeling = dining area
• stue = living room (or just "room" in general; Danes have a more flexible sense of space than Americans)
• værelse = bedroom or separate room