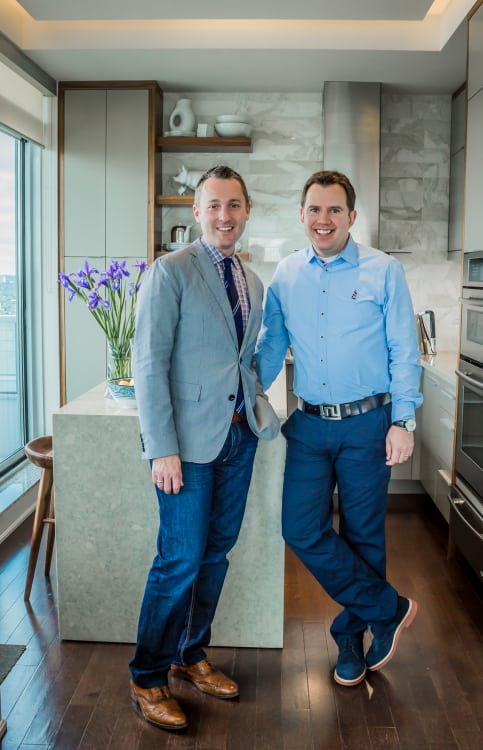 Name: Robert Onderdonk & Gregory Roth
Location: Toronto, Canada
Size: 1270 square feet
Years lived in: 10 months, owned
This sky high condo is as custom-made as they come. While gutting a brand-new home may seem like a surprising choice to some, Greg and Rob were so dissatisfied with their builder-quality basics that they knew it had to be done as soon as they moved in. The spacious, light-filled condo offered a great layout and incredible view, but it lacked the luxurious, boutique hotel feel of their previous home. To alleviate concerns about being wasteful, discarded materials were donated to Habitat For Humanity's ReStore program.
Both extensive business travelers and lovers of modern design, the guys brought in Kirsten Marshall and her team at
Palmerston Design Consultants
to create a space that would make travelers accustomed to 5-star hotels feel perfectly at home. Meticulous plans were soon underway to maximize storage space and maintain a high-end, airy aesthetic with incredibly effective adjustments like replacing conventional closet doors with modern gliding barn doors, the sleek re-design of the drop ceilings, and the addition of beautiful hallway ceiling lighting. Another favorite detail courtesy of the creative minds at
Palmerston
, is the dotted mirror in the master bathroom, whose pattern spells out a poem from 1937 (called
Vanity's Reflection
, by Edwina Reizer) in Morse code.
Glass, chrome and steel flow easily from room to room, subtly tying together the personal details that tell the story of Greg and Rob's jet-setting lifestyle. From Rob's Agatha Christie library to the aviation art in the guest bathroom and charcuterie cookbook collection in the kitchen, all the stylish pieces of the home they share with their affectionate Maine Coon cats, Pigeon and Agatha, fit perfectly into place.
Apartment Therapy Survey:
My Style: We're drawn to a modern aesthetic, with a hint of minimalism. We recognize that a successful space is just as much about what you leave out as what you put in.
Inspiration: I suppose, like most people, we are influenced by the world around us. It just so happens though that our world includes a long string of airplanes and hotels. As a consultant with IBM, on the road continuously for the last 15 years, it's no surprise that our travels have served to inspire. Giving it some thought though, it does surprise us to realize that the sleek and modern design of the Air Canada business lounge at Pearson International may have influenced us more than any of our destinations! Although, the interior of the Trafalgar Hotel in the heart of London certainly made an impression.
Favorite Element: The coffered lighting above the dining room table is so close to the top of the list. What guy wouldn't love an LED lighting installation that comes with a remote control? (Thanks again to our contractor for that stroke of genius). But the tile in the guest bathroom inches ahead. While the textural reference to Coco Chanel's iconic handbag might be lost on two men, it still feels like pure luxury.
Biggest Challenge: The original kitchen layout left many a person scratching their head. The cupboards fit an area the size of a postage stamp, leaving an empty space we fondly referred to as the "dance floor". It had the potential to be so much more. It was a true puzzle squeezing in a breakfast bar, wall oven, speed oven, warming drawer, and assorted sundry appliances into the space. I tip my hat to our designer, Kirsten Marshall of Palmerston Design, for her brilliant solution.
What Friends Say: When spending the night and about to retire for the evening, "um, excuse me, you seem to have missed the chocolate on my pillow..."
Biggest Embarrassment: We don't often draw attention to this little known fact, but for the second time in our lives we bought a brand new condo and stripped it to the bones. As long time condo dwellers, I hope we're aren't alone in recognizing developers make interesting (and often very poor) choices when it comes to the quality of condo finishes. Boob lights should be banned. Apricot bathroom tile should be left where it belongs, in the 80's. And the design should always acknowledge the number one issue of an urban dweller: storage. So, we replaced what we didn't like (that happened to be almost everything).
Proudest DIY: We had a grand original vision of custom closet design. That turned out to be a $5.5K cost that slid way down the priority list. It's an easy choice to make when you haven't yet unpacked the boxes from the move. Oops. Turns out that should have been priority number one. IKEA PAX to the rescue. Imagine our shock when the delivery arrived in 53 boxes! Our proudest DIY for sure was surviving the assembly.
Biggest Indulgence: This came a few years back - a painting of Audrey Hepburn by Andre Monet. It was our first true piece of art and it was love at first sight. It's a mixed media piece that captures the beauty of Hepburn and pays homage to the great photographic eye of Yousuf Karsh. We still owe the gallery owner a huge debt of gratitude for letting us negotiate a bearable layaway plan.
Best Advice: Clearly it was the advice we didn't take. We decided to live in the condo during the renovation. Unanimously, everyone told us to move out. That was advice we didn't take but should have. We now fully appreciate how "divorce dust" got its name. Next time, the reno budget will include three months' rent to live away from the cloud!
Resources of Note:
Contractor: Nuno Teixeira at Calibre Group
ENTRY
· Classic Gray (OC-23), Benjamin Moore
· Audrey by André Monet
· Rectified Resin Gris Tile, Saltillo Tile
· Barn Door Hardware, Real Sliding Hardware
LIVING ROOM
· Classic Gray (OC-23), Benjamin Moore
· Delano Chairs, Maharam Fabric Style Garage
· Stainless Steel Cubes, Style Garage
· Bishop Table, Style Garage
· Seagull, Hoseltons
· Velvet Twist Carpet, Flor
DINING ROOM
· Classic Gray (OC-23), Benjamin Moore
· Tower Chrome Table, Calligaris
· Zarra Chair, Bo Concept
· Blow Up Basket, Alessi
· Art Glass, Venini
· Mystic Clock by Umbra, Art Gallery of Hamilton
· LED / Halogen Lighting, Caliber Group
· Pendant Light, Urban Mode
· Decanters, Holt Renfrew
KITCHEN
· Classic Gray (OC-23), Benjamin Moore
· Rockport Gray (HC-105), Benjamin Moore
· Stools, Urban Mode
· Appliances, Jenn-Air
· Vera Kettle, Bugatti
· Steelart Sink, Blanco
· Quartz Countertop, LG Viatera
· Calacatta Marble Tile, Saltillo Tile
· Minta Faucet, Grohe
· Ceramic Pigs, Teatro Verde
MASTER BATHROOM
· Simply White (OC-117), Benjamin Moore
· Cerastone Circle Penny Tile, Cercan Tile
· Ouadj Bianco Floor Tile, StoneTile
· Tech / Volero Faucets, Cabano Bath
· Morse Code Mirror, Caliber Group / Palmerston Design Consultants (poem: Vanity's Reflection by Edwina Reizer)
· Bathroom Accessories, Blu Bathworks
DEN
· Nebulous White (7063), Sherwin Williams Paint
· Cityscape (7067), Sherwin Williams Paint
· Kennebecasis Island by Réjean Roy, Robert's Gallery
· Detrick Stool, Urban Mode
· Crown Minor Suspension Light, ylighting
· Pillows, EQ3
· Carpet, Elte
GUEST BATHROOM
· Classic Gray (OC-23), Benjamin Moore
· Splendente Calacatta Porcelain Floor Tile, StoneTile
· Inax Visore II Tile, StoneTile
· Ageless White Tile, StoneTile
· Tona Bathroom Vanity, Rubi
· Tech Faucets, Cabano Bath
· Voiding (painting) by Randy Hryhorczuk, Art Gallery of Hamilton
· Bathroom Accessories, Blu Bathworks
HALLWAY
· Classic Gray (OC-23), Benjamin Moore
· LED / Halogen Lighting, Caliber Group
· Box Frames, Room & Board
· Barn Door Hardware, Real Sliding Hardware
BEDROOM
· Spring Fever (painting) by Michael Warren-Dorley, Trias Gallery
· Florence dresser, bed and bedside table, UpCountry
· Pawn Stool , Style Garage
· Bedding, Room & Board
· Quilted coverlet, Room & Board
· Pillows, Room & Board
· Robert Abbey Tic-Tac-Toe X Table Lamp, ylighting
Thanks, Greg & Rob!
(Images: Justice Darragh)
• HOUSE TOUR ARCHIVE: Check out past house tours here.
• Interested in sharing your home with Apartment Therapy? Contact the editors through our House Tour Submission Form.
• Are you a designer/architect/decorator interested in sharing a residential project with Apartment Therapy readers? Contact the editors through our Professional Submission Form.