"Bean" Takes Over the Guest Room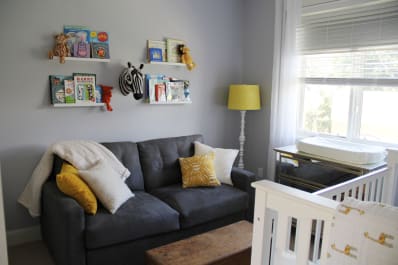 Name: "Bean" (8 months)
Location: Boulder, Colorado
We have a small two bedroom home, and Bean's room was originally the guest room. We needed a guest room after she was born, so we decided to put either a daybed or a pullout sofa in the room with her. That way, when guests came, we could give them our room and sleep in Bean's room with her.
Being tight we really had to use the space efficiently. Her dresser and changing table had to be one piece, and her closet had to hold toys and books. We also wanted to create wall art out of books, and designed this cool bookshelf that you see.
The bookshelf ledges are from Ikea, the sofa is Crate & Barrel, the dresser and crib are Pottery Barn, curtains from West Elm, and the trunk is an old trunk of my parent's that made the space rustic chic.
Thanks, Lori! Readers, say hello to Lori at Reading with Bean.
(Images: Reading with Bean)