Guide to Dining Chairs: 10 Styles & Sources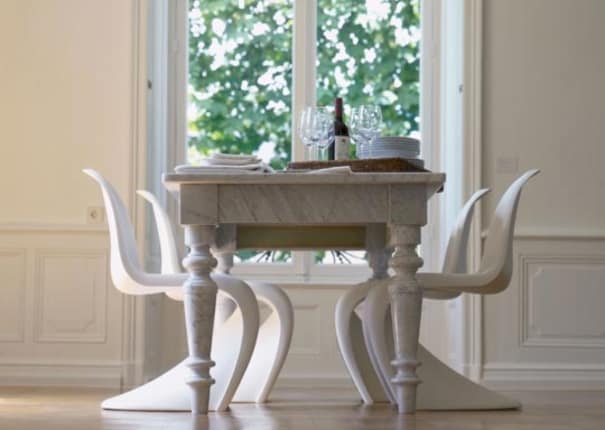 There are SO MANY dining chairs out there that it can be hard to narrow down your options. We could do a post that covered 50, or even 100, different styles, but for the sake of brevity and decisiveness, we've chosen 10 particular types and sources to hone in on. These categories aren't academic, they're not chronological, but they do represent a sample of the wide range that's out there.
Contemporary
There are loads of talented contemporary designers who've created successful dining chair lines — including Philippe Starck, the Bouroullec Brothers, Patricia Urquiola, Blu Dot, and others. You can find their designs through higher-end retailers, from DWR to Vitra to B & B Italia.
Design Public
This online store carries a large crop of well-known and emerging designers working now. This is the Victoria Ghost Chair ($660 for a pair) designed by Philippe Starck for Kartell. Crafted from acyrlic, it combines contemporary materials with Victorian forms.
Classic Modern
The term "classic modern" is used here to refer to mid-century modern styles by designers like Charles & Ray Eames, Harry Bertoia, and Eero Saarinen — all of whom favored streamlined styles in materials such as metal, fiberglass, and plastics.
Modernica
This Los Angeles store sells mid-century-style chairs that can be custom-ordered with different colors and bases. Seats are available with fiberglass shells or wire seats, and bases are available with metal, dowel, or Prince Charles legs.
Craftsman
Solid wood chairs in classic American styles — such as Mission, Arts and Crafts, and Craftsman — remain popular for their simplicity, durability, and ability to go well with lots of different decorating schemes.
Crate and Barrel
They carry affordable wooden chairs of good quality. Shown left is the $149 Apsen, a chair that they describe as a "classic slat-back design that brings a contemporary edge to traditional Arts and Crafts styling."
Deco
Art Deco style favors a streamlined aesthetic that celebrates the machine age. In general, Deco chairs are a little sleeker than their contemporary industrial cousins.
Emeco
Emeco's most iconic design is the aluminum 111 Navy Chair, which they created in 1944 to be a virtually indestructible piece of furniture that would hold up to wear and tear on US Navy ships. The style is aligned with Art Deco's celebration of machinery and metal — these chairs are made from 80 percent recycled aluminum.
French Café Chairs
We're using this loose term to cover a broad range of café-style chairs, from folding bistro chairs to the ultimate café chair, the classic Thonet.
Bauhaus 2 Your House
This online modern store has a range of styles, but their Thonet selection is particularly extensive. Shown left is the iconic Bistro Chair No. 14 for $317. (You can also find these frequently on craigslist and in antique stores.)
Mod / Space Age
Made from plastics and other "futuristic" materials, mod chairs tend to have sleek, curvilinear forms. They're often available in bright colors or basic white.
Vitra
First designed in 1959 and finally produced in 1967, Vernor Panton's famous chair was a cantilevered, one-piece design that went through many iterations as plastics technology evolved. In the 1990s, Panton worked with Vitra to produce a more affordable polypropylene version of the chair that costs around $260.
Romantic
Many of the styles that we're loosely calling "romantic" could also fall into the "traditional" category. The main differentiator is that while traditional chairs encompass a wider range of styles, we associate romantic style with the kind of chairs that would work in a room with candelabras, chandeliers, and crystal place settings.
Wisteria
Online catalog Wisteria carries a number of dining chairs that would fit in with a romantic, high-drama dining room, from European antiques to chairs upholstered in Suzanis. This is the $280 Louis XVI Dining Chair.
Shaker
These classic American chairs are hand-made from wood with a straight back and webbed seat. For a great comprehensive list of Shaker chair resources, see this post.
Shaker Workshops
Located in Arlington, Massachusetts, Shaker Workshops carries a full line of Shaker reproductions online and in-person at their showroom. They also sell DIY kits, which cost about half the price of a fully assembled piece.
Traditional
The word "traditional" encompasses a huge range of styles, but in general, these types of dining chairs are a little more ornate than their modern counterparts and many of them have upholstered seats and backs.
Pieces
This Atlanta store has a beautifully curated collection of upholstered and bare chairs in several traditional styles, including Chippendale, Chinese, French, and even Gothic. You can search their inventory online by color or style.
Avante-Garde / Offbeat
If you're looking for something out of the ordinary that sets your dining table apart, check out cutting edge shops like Moss, The Future Perfect, and Voos. Stores like these often work directly with designers to get new, limited edition pieces into the marketplace.
VOOS
Self-described as "a condensed capsule of locally grown design," VOOS carries innovative and sculptural furniture from designers like Brave Space, Takeshi Miyakawa, Uhuru, and Desu Design. This is the $380 Tread on Me Chair, made of recycled stair treads, by Charles Constantine.
Apartment Therapy supports our readers with carefully chosen product recommendations to improve life at home. You support us through our independently chosen links, many of which earn us a commission.