Guide to Green Home Architects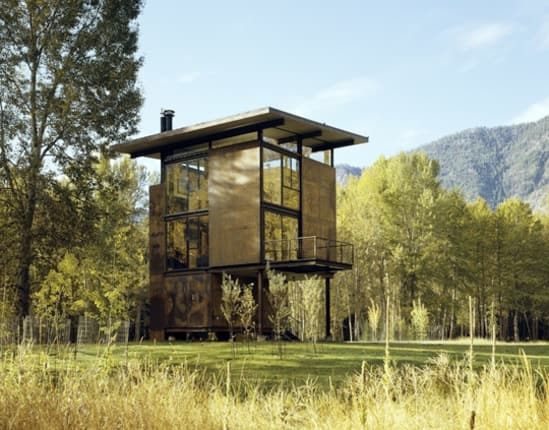 So far, 2010 has been a good year for green design — we've added a bunch of architects to our black book of stylish modern firms with eco-cred. This growing list of LEED architects inspired us to compile a mini-guide of 15 good ones, which we divided up by region. For a more complete source list, check out the green architect category of our Marketplace.
Northeast
Gleicher Design Group
Based in New York, this multi-disciplinary firm offers LEED consultation, architecture, and interior design services. Paul Eichler is a LEED Accredited Professional whose own home was featured on Re-Nest.
Interface Studio Architects
Headquartered in Philadelphia, this firm has an impressive portfolio of modern green single-family homes and apartments. Principals Brian Phillips and Daryn Edwards are both LEED APs, as are several of their staff.
Berg Design Architects
John Berg is a A LEED Accredited Professional based in New York. The Kitchn toured his home, a light and airy space with a modern aesthetic, solar orientation, geo-thermal HVAC, and other green features.
Southeast
Carlson Studio
This Sarasota, Florida firm designed the 2009 HGTV Green Home. They're a full-service firm, a member of the US Green Building Council, and they have a number of LEED-certified residential projects under their belt.
Peabody Architects
This is a residential design firm based in Northern Virginia, just outside of DC. Their specialty is passive heating and cooling, and their homes use as little as 10 percent of the energy required to heat a standard home.
Clayton Homes i-house
Owned by Warren Buffet, Clayton Homes offers green prefab housing at affordable prices — some homes come in under $100k. Although they're a national development group, they have a number of locations throughout the Southern states.
Midwest
Kipnis Architecture + Planning
This LEED AP architect is based in Evanston, just north of Chicago. He specializes in green homes, and he's written a few articles for Re-Nest and his Four Square House and Wisonsin Retreat were featured house tours.
Weehouse / Alchemy Architects
Minnesota's Alchemy Architects are creators of the modular prefab weeHouse. Designed for small space living, these modular homes are expandable, adaptable to their sites, and can be outfitted with green features like solar power.
Studio Gang Architects
Chicago-based architect Jeanne Gang has designed several single-family homes in the Midwest, but she's best known as the architect of Aqua, a mixed-use but mainly residential skyscraper with built-in solar shading and a green roof.
Northwest
Leger Wanaselja Architecture
Based in Berkeley, California, this firm focuses on energy and water efficiency, as well as long-lasting and reclaimed materials. They're well known for their stylish modern shipping container houses.
Olson Kundig Architects
Architects Jim Olson and Tom Kundig lend their names to this Seattle firm, which won the prestigious 2009 National AIA Firm Award. About half of their leadership are LEED APs, and the firm is known for experimenting with modular and kinetic architecture.
Feldman Architecture
Principal Jonathan Feldman is the author of Green Architecture Notes and his San Fransisco firm is a member of the USGBC. Their residential projects focus on energy efficiency and renewable building materials.
Southwest
McGrane Design
Led by Mathew McGrane, this Southern California firm offers sustainable design services and LEED consultation. Projects include a number of green renovations, apartment conversions, and single-family homes.
Studio B Architects
This Colorado firm specializes in architecture and interiors. Apartment Therapy blogged their prefab hybrid home, a structure that combines modular, prefabricated parts with a site-built home to save money and reduce waste.
David Hertz Architects
This Los Angeles architect (whose firm is a USGBC member) is known for experimenting with reclaimed materials — he built the roof of one home from a recycled airplane wing. The firm's office was awarded LEED Platinum certification.
RELATED RESOURCES
• US Green Building Council | Green Home Guide

Photo: Delta Shelter by Olson Kundig Architects