These 5 Habits Help Me Stay Organized When I'm Feeling Down, So I Can Still Manage the Day
We independently select these products—if you buy from one of our links, we may earn a commission. All prices were accurate at the time of publishing.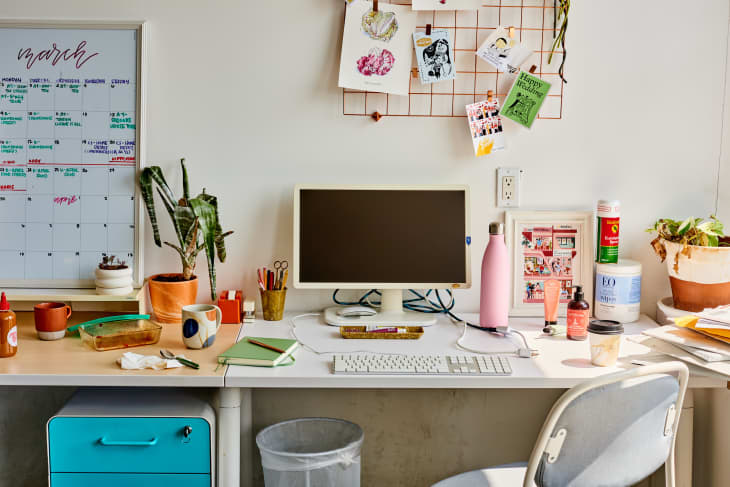 Even the most productive, industrious people aren't on top of their game every day. Maybe it's due to gloomy weather, a particularly stressful week, or the vibes could simply be off — and in response, it makes it harder to get things done. 
As a freelance writer and new(ish) mom, I have plenty of days where I just don't feel like sitting down and tackling a mountain of tasks, but I know I can't drop everything. Letting things slide because you're in a funk is normal, but if you're concerned about a pileup once you feel better or you're totally overwhelmed by the tasks and hand, don't fret. These five habits from wellness experts — and a few of my own tried-and-true methods — can keep you organized even on the days when listening to your mood is the priority.
Make a short list of things you know you can handle.
Nothing makes me feel as accomplished as the physical act of marking something as "done" on my pen-and-paper to-do list. (I prefer a handwritten list to a digital one, but that's just me.) When I'm feeling overwhelmed by life, I keep the list short and sweet with items I know I can accomplish that day. If it's a work day, the most urgent things come first. If it's the weekend, I try to tackle as much as I can during my kid's nap time.
Nonprofit co-founder Jessica Eastman Stewart is also a big proponent of the daily list. "My tip is to identify three-to-five things that are critical for your home to function each day. Post it on your fridge or microwave and get into the habit of doing this list after you finish dinner," she shares. "You don't have to do everything, but if you do a handful of key things that matter in your life, it will keep everything at a manageable level until you cycle back to feeling better again."
Focus on one thing at a time.
When you've got a lot on your plate but you're not in the right headspace to tackle it, it can be tempting to jump from task to task to maximize time. But Ryan Andrews, nutritionist at Precision Nutrition, says "mono-tasking" can be much more productive than trying to do too many things at once.
"We often think that multitasking lets us do more work in less time. Research consistently shows the opposite: When we focus on multiple things at once, we do each of them less efficiently and effectively," Andrews explains. "Each time you interrupt one task, your brain takes about 15 minutes to get back to optimal processing speed and efficiency. Most of us don't do anything for 15 focused minutes, so our brain never has any time to settle in and get 'er done. Do one thing at a time, do it well, and then move on to the next."
If you're frustrated and stuck, shut off the computer or back away from the problem at hand. Get outside for a walk, go for a coffee run, do a quick exercise video, call a friend — anything to shift your mindset. When I'm at an impasse and find myself scrolling TikTok as a distraction, I grab my dog, slip on my sneakers, turn on an immersive podcast and go for a walk. When I come back, I often find I'm in a more positive headspace and can revisit challenging tasks with a brighter set of eyes. 
Meera Watts, founder of Siddhi Yoga, has made meditation an important part of her daily routine. "A stressful day leads to a cluttered mind. I've incorporated doing 10 minutes of meditation no matter where I am or how busy I am, and I recommend others do so. It's more like a self-care habit that helps me declutter my mind," she shares. "This leads to fresh and open thoughts … and a feeling of positivity and satisfaction from life." Meditation and mindfulness can help you better understand your reactions to daily life and adapt those reactions for the future. 
Prioritize a good night's sleep.
Nothing ruins my day or my productivity like a poor night of sleep — it leaves me crabby and unfocused. Instituting a nightly routine similar to the one I go through with my toddler has helped set healthy sleep habits and keeps me motivated and creative during the day. My routine includes a five- to 10-minute stretching video, a quick moment for skincare, and at least 10 minutes with a book before lights out. 
If you're putting things off because you're overwhelmed and stressed, consider changing the way you think about those tasks. "Drop the negative self-talk and work toward a more positive attitude. Telling yourself and other people how busy you are and how much you have to do only makes you feel busier, more chaotic, and more stressed," says Andrews. "On the other hand, a positive attitude can actually lower stress levels. Simply telling yourself you can manage something can give you more confidence to manage it."