Hallmark Unveils Their Holiday 2022 Movie Lineup, Including Its First LGBTQ+ Film
We independently select these products—if you buy from one of our links, we may earn a commission. All prices were accurate at the time of publishing.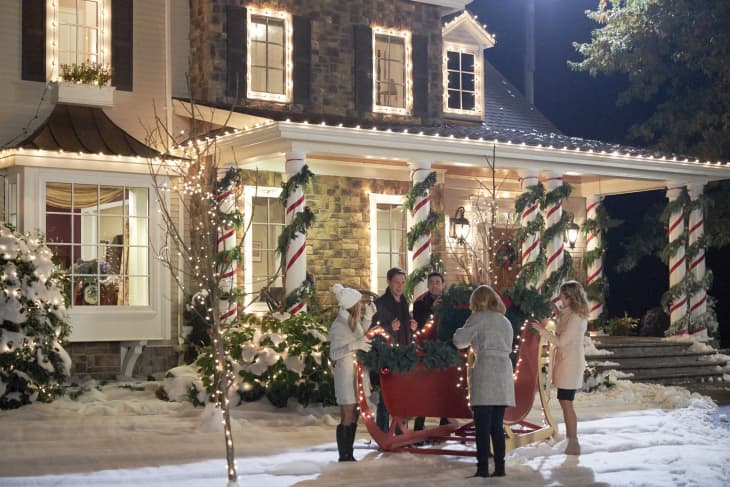 Naughty or nice, there's a little bit of something for everyone.
Hallmark has announced their movie schedule for the holidays. And because Christmas is the season when no one should feel left out, the company is coming out with inclusive content, like their first LGBTQ+ film, "The Holiday Sitter."
Its synopsis reads: "Sam is a workaholic bachelor who babysits his niece and nephew before the holidays when his sister and her husband have to go out of town. Completely out of his element, he recruits help from their handsome neighbor Jason and finds himself in an unexpected romance."
The film is Hallmark's response to the criticism that they only put out stories with white leads in heterosexual romances. Other titles in their schedule also recognize the importance of on-screen representation, as they now feature more actors of color, as well as plots focused on Hanukkah and Kwanzaa.
"Words can't describe what it feels like to have executive produced and starred in such an incredible story that will mean so much to so many," said "The Holiday Sitter" actor Jonathan Bennett. 
"A huge applause to @hallmarkchannel and all the leadership and executives, they not only believed in this story but took such good care of it, championed it wholeheartedly the entire process. December 11 will be a very special day." 
40 new and original holiday films will be released starting October 21, every Friday, Saturday, and Sunday well into December. All premier times for Hallmark Channel are 8 p.m. ET, except for the Thanksgiving weekend doubleheaders at 6 p.m. and 8 p.m. ET. Hallmark Movies & Mysteries, meanwhile, will air their titles at 10 p.m. ET.
Check out the full 2022 movie schedule below:
We Wish You a Married Christmas
We Need a Little Christmas (Movies & Mysteries)
Jolly Good Christmas
Christmas Bedtime Stories (Movies & Mysteries)
Ghosts of Christmas Always
A Magical Christmas Village
Lights, Camera, Christmas!
A Maple Valley Christmas (Movies & Mysteries)
The Royal Nanny
Our Italian Christmas Memories (Movies & Mysteries)
Christmas at the Golden Dragon
Inventing the Christmas Prince
Three Wise Men and a Baby
Long Lost Christmas (Movies & Mysteries)
When I Think of Christmas
My Southern Family Christmas
#Xmas
A Royal Corgi Christmas
A Tale of Two Christmases
Haul Out the Holly
Time for Him to Come Home for Christmas (Movies & Mysteries)
A Christmas Cookie Catastrophe
A Holiday Spectacular
A Big Fat Family Christmas
A Fabled Holiday
The Holiday Stocking (Movies & Mysteries)
The Most Colorful Time of the Year
Christmas Class Reunion
The Gift of Peace (Movies & Mysteries)
'Twas the Night Before Christmas
Five More Minutes (Movies & Mysteries)