There's Still Time: Halloween Decorations to Get Now (With Scarily Speedy Shipping)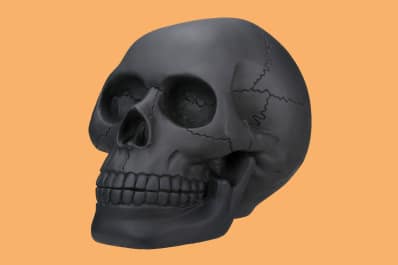 Halloween is just over a week away. Oh...what's that...you completely forgot and were meaning to decorate but now think you're out of luck because the shelves at your local party supply store have been ransacked? Fear not, because there's still time. We dug through the ghoulish and spooky offerings available with Prime shipping on Amazon, and there are still some goodies to be had before October 31. Take a look!
For anyone into the "some person (and skeleton?) was brutally attacked in my home and is still walking around leaving hard-to-remove blood stains everywhere" look, these are definitely for you (they could actually be pretty fun outside leading up to your front door).
Bloody footprints aren't for everyone, I suppose. If you're looking for some tamer festive decor, a burlap banner that's kiddo-friendly is probably a safe bet. String it across windows, your front door or above your fireplace mantel.
Should you have a front yard you want to spruce up to show your Halloween spirit on, a faux graveyard is always a tried-and-true classic.
You could take a perfectly season-less scene, throw a matte black skull into the mix, and all of sudden you have yourself a purposefully minimal nod to Halloween. Simple as that.
You might be thinking "orange and black dots on a string? I could totally make that myself." Sure, of course you could, but are you actually going to? (If you are, start now, because you only have a few days left. If not...consider buying this cute little garland, instead.)
Flameless candles do not come cheap, so the fact that these are under $20 for a set of six makes me go "hmmm". However, to scatter on a mantel, console table or window sill during Halloween, I say, why not?
I've recently become pretty obsessed with sticking faux ravens everywhere in the name of "Halloween decorating". Prop some of these little guys all over your home and you've got an Edgar Allen Poe-inspired scene in no time.
No Halloween scene is complete without a skeleton, of course. I'd suggest pulling out the spray paint and giving this fella a glam touch with some glitzy brass and propping it up in a chair in your living room.
I actually kind of love these. Put them in your bushes or front windows to make visitors and trick or treaters second guess whether there really is something creepy staring them down.
Apartment Therapy supports our readers with carefully chosen product recommendations to improve life at home. You support us through our independently chosen links, many of which earn us a commission.