Handy Food Storage Containers for the Holiday Season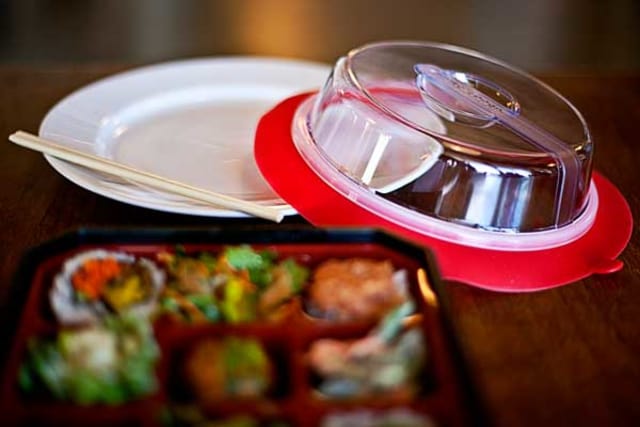 If your family is anything like mine, holiday dinners usually end with your many aunts squabbling over who's food storage containers belong to who. Merrily transport your dishes to-and-fro with one of these five winning food savers you can distinctly call your own.
Plate Topper
Created by San Francisco-based Michael Tseng, the PlateTopper is an easy-tO-use, green alternative to food storage. Cover the food already on your plate by pressing the food-safe silicone ring to create a suction seal for optimal freshness. After having recently reached their goal on Kickstarter.com, PlateTopper is ready for production. Visit PlateTopper.com for pricing and pre-orders.
Black and Blum
A good source for modern food storage, this company from London prides itself on creating well-designed, functional products that charm and entertain. Shown here: Box Apetit, $22.
Sur La Table
The Kinetic Go Green GlassLock Food Storage from Sur la Table is an innovative and eco-friendly solution for saving leftovers. The tempered glass is both stain resistant and microwave safe, and the silicone locking seal is air and water-tight to keep food fresh for longer. $32
Bakers Sto 'N Go
A handy device for bakers, this versatile storage device allows you to separate and transport your cookies, brownies, pies and more with the placement of plastic shelves within the container. $22
Container Store
Made from stain-proof, shatter-resistant, tempered glass, these Rectangular Glass Food Storage containers are microwave, freezer and dishwasher safe. With prices starting around $4.99, they are a great deal for long-term storage containers.
Image: PlateTopper.com